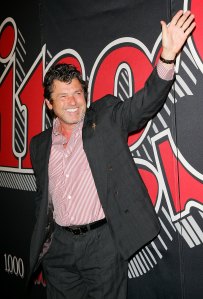 Rolling Stone founder, publisher and editor Jann Wenner recently sold his stake in the Upper West Side townhouse he once shared with his estranged wife, Jane Wenner, née Schindelheim.
According to city records, it appears Mr. Wenner sold his stake in the single-family dwelling at 37 West 70th Street for $4 million, transferring sole ownership of the townhouse to Ms. Wenner.
Though the former Mr. and Mrs. Wenner separated in 1995, after 28 years of marriage and three children, the two have never actually divorced and Jane remains a partner in the Wenner Media empire. Since the couple's split the Men's Journal and Us Weekly publisher has lived with partner Matt Nye, a very handsome former model and clothing designer 19 years Mr. Wenner's junior. Messrs. Nye and Wenner currently live in their own lovely townhouse on West 74th Street, close enough for Jane to come calling on Jann for a cup of sugar. They also purchased, in October 2009, a 1.5-acre oceanfront home in Montauk for $11.9 million, even though Jann and Jane co-own a beachfront East Hampton abode on fancy Further Lane, which Jane earned territorial rights to.
The West 70th townhouse transfer echoed last month's faulty marriage fall-out, which saw John Cleese and ex-wife Alice Faye Eichelberger transfer ownership of their Upper East Side two-bedroom from both parties to Ms. Faye solely.
When not on West 74th Street or the Long Island Sound, Mr. Wenner, Mr. Nye and their growing brood-the couple now have three children of their own via surrogate-likely spend time in the 62.9-acre estate in Tivoli, in upstate New York, which they bought in 2007 for $5.8 million. Mr. Wenner also owns a home in Sun Valley, Idaho because, well, there's not much skiing in Montauk, waterskis excluded, of course.