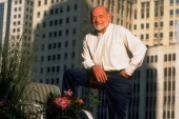 Gnomish Chicago-based billionaire and Tribune company chairman Sam Zell may know piles about New York real estate, but he has a little something to learn about the stuffiness of New York WASP society.
On Jan. 14, Mr. Zell found himself temporarily unable to enter the 147-year-old Union League Club on 37th Street and Park Avenue, where he was scheduled to participate in a Q&A with real estate expert Peter Linnneman at an Urban Land Institute breakfast titled "Real Estate Outlook 2010 and Beyond."
The problem? Mr. Zell was wearing jeans. And, as the club explicitly states on the House Rules section of its Web site: "Denim, sneakers, athletic apparel of any description, or immodest attire are never permitted."
"It is a fairly strict dress code, almost to the point of being ridiculous," said one visitor. "You go to the bar and get a drink and when you shoot pool, you take your jacket off. When you go back to the bar to get another drink, you have to put your jacket back on."
Part of a proud tradition of messy media moguls that includes Advance Publications' S.I. Newhouse and filmdom's Harvey Weinstein, Mr. Zell either didn't know about the club's dress code, or didn't care. We can't know for sure, because his spokeswoman didn't respond to requests for comment. Nor did the club's general manager.
But sources who attended the event said that Mr. Zell was stopped at the door, prompting a panic among organizers on the second floor, who rushed downstairs with a borrowed camel-hair dress coat and wrapped it around his shoulders, whisking him past security and upstairs, at which point—perhaps sensing he was no longer in danger of ejection—he boldly discarded the garment before beginning to address a rapt audience of real estaters.
After a pessimistic talk in which Mr. Zell impugned Barack Obama's administration and encouraged investment in economies more dynamic than our own, one attendee approached the dais to ask a question and got an unexpected glimpse of chest hair.
"The funny part was he had only the second button done on his shirt and the last button before it gets to the belt line," said the attendee. "The middle three buttons were not buttoned." Which meant the questioner had an unsolicited and unparalleled view of Mr. Zell's chest hair and the "nice gold chain" entangled in it.