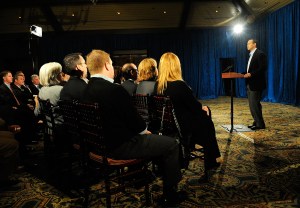 Thanks to a strict press limit, and a boycott by golf writers, there were only three wire reporters inside the heavily-draped room for Tiger Wood's rather robotic mea culpa this morning.
"It was unlike any other golf press conference I have been involved with," said Bloomberg News' golf writer Michael Buteau, who went on Bloomberg TV after Mr. Woods was done. "Before he came onto the podium, there were 40 people in the room, 14 executives of the PGA tour, some friends of his, his mother was sitting the front row. It was dead silent for at least two minutes before he walked into the room. When he spoke, nobody said a word."
After the speech, Mr. Buteau got to talk to Mr. Woods' mother, who wasn't thrilled with the coverage of her son. "His mother was a little bit defiant. She at first said that everybody makes mistakes, we're human beings, and that's correct, we move on and we learn from those mistakes," he said. "Then she got a little bit defiant and those that didn't really address all the good he has done."
Not surprisingly, Deadspin was defiant that any reporters would attend the "apology kabuki." But the Golf Writers Association of America–of which Mr. Buteau is a member–didn't think it was such a big deal, even though they chose to not to fill their six seats, in protest of the small number of press allowed and the lack of questions.
"The news services–that was their call. They were not the seats assigned to the GWAA so it was in no way a violation of our boycott," said Melanie Hauser of the GWAA. "That was not even a question in our mind." (Ms. Hauser also noted that Doug Ferguson, who was there from the Associated Press, was the last president of the GWAA.)
"It was frustrating that we couldn't ask him questions, but I went into that room hoping that we would be able to ask others questions. And that was the case," said Mr. Buteau. "It was very controlled and that is the way Tiger has done things. I didn't expect anything less, but I went in there hoping we could talk to others, and we got that opportunity."