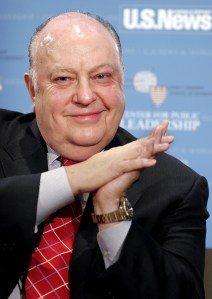 Roger Ailes made a rare appearance on a rival network yesterday morning, joining a "This Week" roundtable on ABC News to talk about Scott Brown, President Obama and Glenn Beck.
"I was waiting for HD, I look so much better" the Fox News C.E.O. told Barbara Walters, who was sitting in for the recently-departed George Stephanopoulos. Mr. Ailes also commented on Mr. Brown's infamous nude spread in Cosmopolitan magazine.
"It's 1982, the guy's getting out of college and somebody gives him a thousand dollars and he can cover himself up. I don't know–a hundred bucks, I'd do it," said the portly Mr. Ailes.
Mr. Ailes also defended Glenn Beck when another round table guest, Arianna Huffington, accused him of hate speech.
"He was talking about Hitler and Stalin slaughtering people. I think he was probably accurate," Mr. Ailes said.
"No he was talking about this administration," Ms. Huffinton replied.
"I think he speaks English," Mr. Ailes shot back. "I don't misinterpret any of his words. He did say one unfortunate thing which he apologized for, but that happens in live television."
Ms. Huffington worried that Mr. Beck might be dangerously tapping into American paranoia.
"I agree with you," Mr. Ailes said. "I read something on your blog that said I look like J. Edgar Hoover, I have a face like a fist and that I was essentially a malignant tumor. And then it got really nasty and I thought maybe Arianna ought to cut this out."
Asked by Ms. Walters about his network's recent spat with the White House, Mr. Ailes was matter of fact.
"We're fine," he said. "It was not as bad as it was played and things are not as good as they should be. We have a good dialogue. I saw the President and his wife at the media Christmas party, they were very gracious very nice. And we have a dialogue with them every day."
"Aw shucks, it was more fun the other way," Ms. Walters said.
"I'll pick a fight if you want," Mr. Ailes replied. "I'd be happy to get into one."
Later, pushed to speculate on his new hire, former vice presidential candidate Sarah Palin, Mr. Ailes demurred on whether she would run in 2012.
"I have no idea. I don't even think she knows," Mr. Ailes said. "I'm not in politics. I'm in ratings. We're winning."