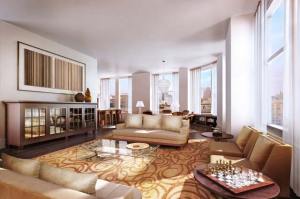 Former Burger King CEO Bradley Blum's recently purchased $3.7 million condo at 141 Fifth Avenue is flame-grilled to perfection. The freshly renovated landmark building, between 20th and 21st streets, has already almost completely sold out, according to Emily Beare, the building's director of sales and an executive vice president at marketer CORE. The 1890s building in the heart of the Flatiron district was converted to condo in 2007, and only the copper cupola-cocooned penthouses are left on the market.
"It's probably one of the top five buildings downtown," Ms. Beare told The Observer enthusiastically. Sure, she's biased, but one look at that colossal cupola and terracotta detailing and I'm tempted to agree. Mr. Blum's apartment is not one of the building's cupola-ed penthouses, though the two-bedroom with a home office is a corner apartment on the same line.
It looks as if the gourmet entrepreneur, who is currently CEO of Romano's Macaroni Grill, based in Dallas, will be using the 10-foot-7-inch-high-ceilinged, walnut-floored apartment as a pied-à–terre. According to Ms. Beare, the former Olive Garden president has "a lot of other things going on, so he won't be here all the time.
"His apartment is so dramatic!" she said. "It's on the curve of the building and you look out and see the architectural detailing from the windows." And in case the closest Burger King, which is 14 blocks away on 34th Street, is too far a walk, Mr. Blum should feel comfortable making himself at home in the Calacatta Gold marble countertop-equipped kitchen, which also has a wine cooler and a pasta pot filler above the Wolfe range stove for those nights spent perfecting Macaroni Grill's pasta fagioli.