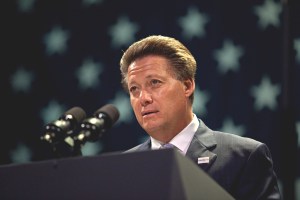 Citing high unemployment in New Jersey, AFL-CIO President Charles Wowkanech urged elected officials to oppose Gov. Chris Christie's efforts to reduce unemployment benefits for unemployed workers.
"Workers have paid into the fund with the understanding that they would be getting a certain level of benefits, and it would be a betrayal to now reduce benefits when they are most needed," Wowkanech said in a statement. " At the federal level, Congress has recognized this need, and provided supplemental unemployment insurance benefits to workers. Here in New Jersey, we should not be going in the other direction by reducing benefits. We are sensitive to the needs of businesses during this difficult economic time. But employers in New Jersey have already received enormous tax cuts reducing their obligation to properly fund the unemployment trust fund. "
Wowkanech pointed to Department of Labor and Workforce Development figures.
"Corporations have received four unemployment tax cuts since 1998, with savings to corporations ranging from $250 million to $450 million – per year," he said. "Additional steps have been taken recently on behalf of employers, including diverting $300 million from the general fund to the unemployment insurance fund to delay an employer tax increase. In total, corporations have benefited from these unemployment insurance fund changes to the tune of billions of dollars. We cannot let corporate executives once again avoid their responsibility to the unemployment insurance fund. Workers have responsibly paid their share, employers must do the same."
Christie's plan calls for a reduction in the maximum weekly unemployment payment from $600 to $550 and requires a one week waiting period before benefits can be claimed. It imposes an average payroll tax increase of $130 per employee and phases in future increase so, according to a press release from the front office, employers have time to prepare for them in advance.
"We live in a state with a high cost of living, and the elimination of $50 per week for future unemployed workers, as well as imposing a one week waiting period for benefits, would be a significant financial hardship on workers that are already struggling to make ends meet," Wowkanech protested. "We respectfully urge Governor Christie to stick to his original position prior to taking office in January, in which he stated he would not ask for legislation to put off changes to properly fund the unemployment insurance fund. We also urge legislative leadership to stand with workers on this issue and reject any reduction to unemployment benefits."