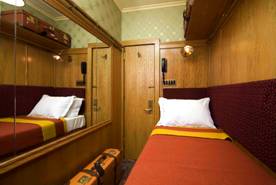 Consolation prize: regardless of what happens with the Jane Ballroom, the Jane Hotel is more accessible than ever. It's lowering its starting room rate to $69 (from $99) for March 2010.
This is either a great deal or a terrible deal, depending on what you want out of a hotel room.
If you want "free wi-fi, a 23-inch LCD television, a DVD player, an iPod dock, telephone with voicemail, built-in drawers," a twin bed, and 50 square feet to yourself–SCORE.
If you want a private bathroom–you are out of luck.
Just be careful not to antagonize the neighbors!