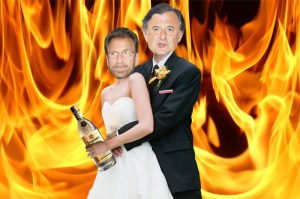 Did you notice all the gauzy coverage of the merger of America Online and Time Warner last month? It was pegged to the 10th anniversary of the deal, now widely derided as the "worst merger in history" and which cost shareholders more than $100 billion.
But it's starting to feel like a long time ago now, and pretty much everyone involved has mumbled some kind of mea culpa and tried to move on. Now, you want to talk about a serious media-merger hangover? Check out Vivendi, the French water and telecoms company that bought the old Seagram a decade ago in a dot-com–era bid to be a junior league AOL–Time Warner. That transnational nightmare is still going strong. Last week, the hapless French conglomerate was slapped with a jury judgment in a Manhattan federal court that accused it of recklessly misleading investors about its financial health before and after the October 2000 Seagram deal. Depending on whose lawyer you listen to, the company is on the hook for anywhere from $9 billion to (according to Vivendi's side) an incalculable but far smaller figure. Vivendi says it will appeal the case, but there is so much lingering toxicity and pathos around the time the company was known as Vivendi Universal that it is practically the Love Canal of media constructs.
In fact, it's worth remembering that this year's media mega-mega-merger—General Electric's handoff of NBC Universal to Comcast—can be traced to Vivendi's near-collapse after its stab at empire-building under the heady leadership of former CEO Jean-Marie Messier, once known lovingly as J6M, short for Jean-Marie Messier Moi-Même Maître du Monde. En Anglais: "Me, myself, master of the world."
As part of its efforts to get back on its feet after Mr. Messier's debt-addled reign, Vivendi sold the remnants of Seagram—the Universal film and TV studios and theme parks and a passel of cable networks—to NBC in 2004, keeping the Universal Music business and 20 percent of the new NBC Universal as part of the bargain. NBC's struggles lately have been well documented, but it was Vivendi's desire to finally unload its last vestiges of the business—which it did recently—that pushed GE to offload NBC U altogether. Under far less flashy management, Vivendi has gone on to buy video game company Activision and a phone company in Brazil.
And the shareholder verdict last week is not even the last of it. Still to come, Vivendi will be back in court to square off against combative billionaire John Malone's Liberty Media, which in 2003 filed a similar suit accusing Mr. Messier, his chief financial officer and Vivendi of "fraud, misrepresentation and concealment" related to its dot-com deal spree. Strangely, while the jury last week found that Vivendi bore responsibility for duping its shareholders, it ruled that Mr. Messier and the company's finance chief at the time did not.
But Mr. Messier isn't entirely out of the woods. In addition to facing Mr. Malone, he will also be in a French criminal court later this year to stand trial for share manipulation relating to this whole fiasco, and, if convicted, could face several years in prison. This time, the taint extends to former Seagram CEO Edgar Bronfman Jr., who is one of several former Vivendi colleagues who have been ordered to stand trial along with Mr. Messier. Mr. Bronfman has already had to wear the shroud of having wiped out much of his famous family's fortune through the infamous merger, and had moved on by buying and running Warner Music Group. (His lawyers have said he did nothing wrong.) One can only imagine how much he is looking forward to reliving the good old days in Paris avec J6M.