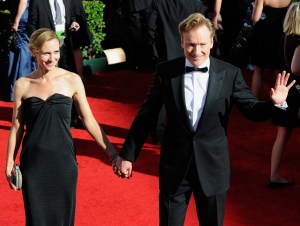 Last month, with wounds still fresh from the Leno-Conan carnage, the Post reported that despite Conan O'Brien's $45 million NBC buyout, the martyred Tonight Show host was quietly listing his duplex penthouse at the Majestic for $35 million, hoping, apparently, for a second buyout.
There hasn't been much real-estate-related O'Brien banter since … until now. According to several knowledgeable sources, Mr. O'Brien's 17th- and 18th-floor penthouse has been listed through Brown Harris Stevens' private directory for $29.5 million by power agent John Burger. Upon request for comment on the listing, Mr. Burger told The Observer via email, "Per BHS company policy, we do not comment on client matters with the press." And Mr. O'Brien himself did not respond to requests for comment.
The listing, which attempts to veil the exact location of the apartment in the building, divulges only that it is "a high-floor double apartment with Park views" before plunging into what sounds like Alice Mason's rendition of The Twelve Days of Christmas, listing eight bathrooms, seven bedrooms, three terraces, two libraries and park views of the ci-tee (sung in key).
Mr. O'Brien and his wife, Elizabeth Ann "Liza" Powell, bought the 18th-floor unit for $10 million in 2006, and merged it with the 17th-floor combined unit they already owned and were living in it at the time with their two children, Neve and Beckett. The 18th-floor O'Brien add-on came equipped with twin maid's rooms, a boudoir for Ms. O'Brien and three terraces. The combined duplex penthouse—now on the market—roundly beats even legendary building resident Frank Costello's famous 17-room Mafia stronghold.
Where will the wind blow Mr. O'Brien's carefully swept coif when his truly majestic apartment sells? Fox hasn't been shy about its courtship of the late-night lead, and other rumors suggest a tidy lineup following Jon Stewart and Stephen Colbert on Comedy Central.
Perhaps he'll go west like so many late-night cowboys before him. In 2008, the Boston-bred entertainer spent $10.5 million on a palatial house in L.A.'s Brentwood neighborhood, equipped with a 1,500-bottle wine room, a 60-foot-long veranda and a steam room and sauna. (The Majestic doesn't have a sauna.)
More from Chloe Malle:
You're My Loft, Blue! Ferrell Goes to Contract in West Village
Isaac Mizrahi Buys Cozy West Village Condo from TV Guide Chief
A Fortunate Play for Fortunoff Heir: Tiki Barber Sells for $3.495 M.