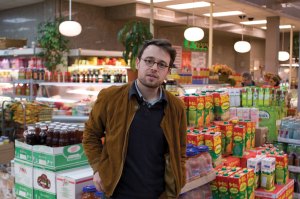 "Let me show you the swastikas," said Joshua Cohen. We were in the lobby of his apartment building half a block from the Brighton Beach boardwalk. The novelist pointed to a pair of circular black tiles on the floor, each embossed with a golden swastika. The building, Mr. Cohen explained, was built in 1929 by an anti-Semitic developer who hoped to scare Jews away from Brighton Beach. If not for the repulsive associations, the tiles would make for the sort of elegant prewar details desired by New York apartment hunters. "When I saw these," Mr. Cohen told me, "I had to move in."
SLIDESHOW: 10 Must-Read Spring Books >
The 29-year-old is short, slim and youthful, with light brown hair and a neatly trimmed beard. He lives far from bookish enclaves like Park Slope and is something of a literary outsider. His work has been ignored by a publishing industry that prizes, in his words, "white boys who write to be liked."
Witz–Mr. Cohen's fifth book and the longest, most difficult and, perhaps, most daring new novel of the spring–tells the story of the hunt for the last Jew on earth. It's the sort of postmo dern epic that arrives like a comet about once every decade, like Infinite Jest or Gravity's Rainbow. Like any epic, it defies summary and overflows with puns, allusions, digressions, authorial sleights of hand and structural gags-in the tradition of Thomas Pynchon, James Joyce ("It gets real Finnegans Wake-y toward the end," he told me), Jonathan Swift and Laurence Sterne.
In the novel, a plague descends on Christmas Eve, 1999, killing all the world's Jews except for the firstborn sons. (The words "Jew," "Jewish" and "Judaism" never actually appear in the book; the Jews are known as "the Affiliated.") Among the survivors is Benjamin Israelin, a boy born one week earlier who emerged from the womb a full-grown man, with a wispy beard and wearing glasses. Meanwhile, a conspiracy is hatched to convert the masses to Judaism and seize the assets of the dead. The survivors are herded to a concentration camp on Ellis Island and are slaughtered on Passover (a holiday Mr. Cohen was looking forward to spending with his family in Atlantic City when we talked), all except Ben, the last authentic "Affiliated," who is propped up as a celebrity, carted from city to city, cast in movies, given honorary degrees-that is, until he escapes, and the hunt for him commences. (The death toll in Witz is 18 million.)
Over Irish whiskey a few days later at the soon to be demolished Brooklyn bar Freddy's, Mr. Cohen asked, "How'm I gonna convince people to read an 800-page book?" Especially one so drenched in death. "Dark comedy" seems an inadequate way to describe Witz. For all its gags, it was conceived with a singular aesthetic mission: to put an end to the novel of Jewish kitsch, Holocausts with happy endings. "The targets might be Michael Chabon, Jonathan Safran Foer, Shalom Auslander," Mr. Cohen told me. "When I started this book, I wanted to sleep with their wives. By the time I finished, I wanted to sleep with their mothers.
"The problem is Jewish-American fiction that always ends with assimilation back into the community," he explained. "They do what they do very well, but it's only one thing. Kitsch needs to have its own built-in critique. Anything that's nostalgic ought to also be tragic and disquieting at the same time."
The novel, which comes out in May, was nine years in the making. Mr. Cohen began it the summer after he graduated from Manhattan School of Music in 2001. Unlike most young American novelists, he never sought an M.F.A. "The M.F.A. is a degree in servitude." Mr. Cohen said. "It is a way to keep writing safe–to keep reading safe from writing. That I would be criticized as being romantic, or impractical, for making that statement just goes to show everything that's wrong. Writing is a conviction before it is a craft." On the proceeds of a prize he won for a short story, Mr. Cohen moved to Berlin a few weeks before 9/11. He worked as a correspondent for the Jewish Daily Forward in Central and Eastern Europe. (He became literary critic for the paper in 2005.) His beat was the remembrance of the Holocaust-events like the reopening of Elie Wiesel's house in Romania.
"Death porn tourism" is how Mr. Cohen terms the experience, which was formative to the composition of Witz; his editor called him "the Dead Jews correspondent." He lived in Prague and in Poland, and took other odd jobs, translating the cover copy of pornographic DVDs, working for diamond dealers offering dubiously "traditional Jewish" cuts of gems to unsuspecting tourists. Once, staying near Auschwitz, he played the pimp to an Israeli film crew, introducing them to the local Polish prostitutes. "They made a great documentary," Mr. Cohen said. During that period, he also co-founded a literary journal, BLATT.
Witz, a pun, meaning "joke" in German, was turned down by eight New York publishers. "One of them told me they would publish it if it was 200 pages," Mr. Cohen explained. "One said 10 years ago they would have done it, back when people read novels." The book landed with Dalkey Archive Press, a nonprofit based in Illinois and beloved for keeping American experimental novelists like Stanley Elkin, Gilbert Sorrentino and Harry Mathews in print. "The big publishers want someone they can send on the Jewish book circuit, somebody the old ladies can see marrying their granddaughters." Death jokes, literary excess and postmodern trickery aside, the corporate houses don't know what they're missing.