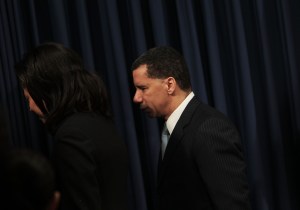 Peter E. Kauffmann has resigned as director of communications for Governor David Paterson.
Mr. Kauffmann was cited in a New York Times story this morning as having testified that "the governor clearly contended that he did not have to pay for any of the tickets" he received for the World Series. Governor Paterson has insisted he intended to pay for the tickets all along.
Mr. Kauffmann's statement–below, in full–does not mention that incident specifically, nor any of the other incidents that currently plague the governor. His email mentioned today will be his last day in the Executive Chamber.
"I have been honored to serve the people of New York during a difficult time in our state's history. As a former officer in the United States Navy, integrity and commitment to public service are values I take seriously. Unfortunately, as recent developments have come to light, I cannot in good conscience continue in my current position. I have notified the Governor that I am resigning as Director of Communications." – Peter E. Kauffmann