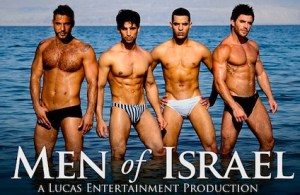 Yarmulkes and Stars of David were the hot accessories last night at Fox, the new weekly gay get-together at the Park in West Chelsea. The Jew-dudes—and the goys who love them—were out at Fox to fete a new co-mingling of the sacred and the profane: "Milk and Honey," a 10-day gay getaway to Israel this June.
A joint-venture between Steele Luxury Travel and NYC nightlife impresario (and Fox producer) Josh Wood, the trip is anchored around Tel Aviv's annual Gay Pride parade on June 11th, and promises to be like Birthright-meets-the-Black-Party along the sandy Med. Wood is promising holy days—Masada climbs, Jerusalem's Wailing Wall, Kabbalah workshops—followed by boogie nights at Tel Aviv's top gay soirees. "It's like the new Ibiza," Wood says of Israel's nightlife scene. "All of Europe is going there to party!"
But as with most things in the region, Israel's gay tourism invasion is not without its share of drama.
Russian-born porn king Michael Lucas is also chasing the pink shekel, and plans to launch his own gay-focused Israel trip this spring, which ends—conveniently—the very same day Wood's tour touches down.
Ardent-Zionist Lucas is no stranger to the homo-themed Holy Land. Back in 2006 he paid a USO-style visit to Israeli troops battling the Hizbullah during that summer's war with Lebanon.
Three years later, he produced Men of Israel, the Jewish nation's first-ever gay porn film.
Now he and 20 of his travel pals are heading back to Tel Aviv for the first incarnation of his innocuously named "Travel with Michael" series. Like Wood's travel package, Lucas' nine-day visit includes Israel's greatest hits, along with extras like Red Sea scuba dives, visits to Israeli military bases (!) and meetings with local LGBT activist groups. Porntrepreneur Lucas insists his tour "is not a porn trip, it's not a sex trip"—though he is promising a welcome dinner with his Men of Israel star Jonathan Agassi along with afternoons tanning at secluded gay beaches.
So why not partner up?
"We spoke with Michael last fall about developing a film component to our trip," Wood says. "I guess he thought it was such a good idea that he decided to do his own." Zing!
Uhm … not so much, retorts Lucas, whose pre-porn career included a stint as a travel agent back in Russia. Once Men of Israel began generating buzz—including a shout-out on Chelsea Lately, an L.A. Times write-up and endless blog-bursts—Lucas says that guest-starring in Wood's Israel production didn't really make sense. "Once I did the numbers, I just realized they needed me more than I needed them."

"I love that Josh is doing a trip," Lucas adds. "My goal is to show as many people as possible Israel's other side, the non-propaganda side."
That's the kind of stuff they like to hear over at the Israeli Consulate General on Second Avenue, where newly arrived Consul for Media Affairs Joel Lion is craving all the positive press he can get. Lions salutes Wood's and Lucas' touristic efforts—particularly at this moment of frosty Israeli-American relations. "Gays are actually one of our target markets," Lion enthuses. "It's unexpected, but then everything about Israel is unexpected."
As for potential flare-ups with homo-hating religious types during group visits to Jerusalem, Lion—an actual rabbi himself—insists he's not overly concerned. If anything, he suspects Jerusalem—and not some after-hours Tel Aviv club crawl—will provide the visitors' real transcendental experience. "People get this thing called 'Jerusalem syndrome'," he explains. "They're so overwhelmed with emotion and spirituality they actually think they're the messiah."
Back at the Park last night, the men were cruising for their own messiahs—or at least their messiahs-right-now—as they checked out potential fellow travelers on Wood's June tour. "Jewish men are hot," enthused Luke, a 41-year-old marketing man and potential Israel arrival.
As for security fears or terror concerns, Luke was having none of it. "Am I worried about bad guys? Sure I am. But there are plenty of bad guys right here in New York."