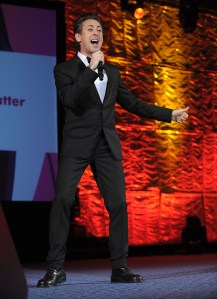 Heavy rains and general transportation problems on Saturday, March 13, were not about to stop the annual GLAAD Media Awards on the seventh floor of the Marriott Marquis hotel.
Hosted by a bubbly Alan Cumming, recently cast as Gutsy in the upcoming Smurfs film, the awards were honoring actress Cynthia Nixon and View host Joy Behar.
"Barbara Walters would have been here tonight," quipped Ms. Behar during her acceptance speech, "but she's signing her book at Chuck-E-Cheese."
"I've been straight, and I've been gay, and gay is better!" Ms. Nixon said. "Not because it's more fun, or more edgy or more attention-getting, although it's all of those things. As a gay person … I'm a better parent, person and citizen. As a gay person, I can't take things for granted; I have to reinvent the wheel."
Presenting the first award for Outstanding TV Movie or Mini-Series was Rosie Perez, who revealed that if she "ever became a carpet muncher," Cynthia Nixon and Beyoncé "would be first in line!" which earned her whoops and catcalls from the audience. Sigourney Weaver accepted an award on behalf of the Lifetime movie Prayers for Bobby, wearing a simple, sparkling knee-length black dress.
"I love you," she said to the audience with great emotion. "You are on the front lines fighting for our common humanity,"
Presenting the award for outstanding television journalism for a CNN segment about Will Phillips, the 11-year-old boy who refused to stand up for the Pledge of Allegiance because he felt that gay Americans were not receiving the liberty and justice they were entitled to, were Sandra Bernhardt and Sarah Paulson.
"Don't forget the story of a seventh-generation celeb that began his life as Chastity, and found himself as Chaz," Ms. Bernhardt said. "This is why we must idolize everything that comes out of Cher. I don't know who wrote that line, but it's funny!"
Master Phillips surprised the audience with a speech that he seemed to have written himself. "I wanted people to expand their minds and look outside their tiny mind boxes to see that even 10-year-olds have logical opinions and that I am an intelligent person like most people," he said.
The after-party, located on the sixth floor of the Marriott (rockin'!), featured model Ronnie Kroel, Hair star Gavin Creel and Dustin Lance Black, the Academy Award-wining screenwriter of Milk. "He has amazing taste in shoes," Mr. Black remarked of Master Phillips. "He had on this little tux with white Converse. People were coming up to me and asking why I didn't wear my matching shoes." He glanced down in mock sheepishness at his white K-Swiss sneakers.
"I usually do," he said.