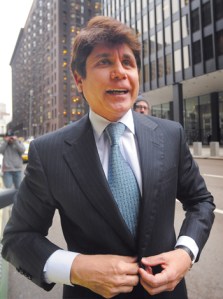 "I can spin a basketball on all four fingers of my right hand," said Rod Blagojevich. "The hardest transition is from the little finger to the ring finger because it's got to go up." Mr. Blagojevich held his hand in the air to demonstrate. Jimmy Breslin sat a few feet away and nodded. It made sense.
Mr. Blagojevich said he had learned that trick decades ago, growing up in Chicago as a Serbian-American. It was one of the few ball-handling skills you could practice inside a cramped apartment. "Pete Maravich was an inspiration," said Mr. Blagojevich, referring to the NBA all-star. "One of my many dreams that never came true."
It was around 2 p.m. on Thursday, March 18, and Mr. Blagojevich, the erstwhile governor of Illinois under federal investigation for corruption, and Mr. Breslin, the erstwhile chief of New York journalism, were sitting at a table, tucked in the rear of the Back Stage Eatery on Fifth Avenue near 47th Street. The deli had table service and an ATM. Posters for Broadway shows hung on the walls. Lunch hour was long over. The place was deserted. An empty can of Diet Coke sat on the table, alongside a plate of soggy pickles.
'I do love that he is always in character,' MSNBC anchor and Blago-aficionado Willie Geist told The Observer. 'He introduces himself and says, "I'm Rod Blagojevich and I'm innocent of all charges."'
Mr. Blagojevich was wearing a navy suit. In person, his thick black hair is as arresting as it is on TV—a bristling obsidian ridge that stands out over his sun-deprived forehead with the ostensible heft of a load-bearing wall.
Mr. Blagojevich, 53, was in New York for a 24-hour media blitz of sorts. He had arrived the night before, dropped his bags at the W, and headed over to Mr. Breslin's apartment near Columbus Circle. Mr. Breslin, who is currently working on a book about Mr. Blagojevich, served up a home-style dinner. It was a beautiful spring night, and Mr. Blagojevich felt a touch of nostalgia. He had never lived in New York City. But not long ago, he spent an undisclosed duration embedded in the Trump Tower overlooking Columbus Circle while competing in the NBC reality show, The Celebrity Apprentice—the first episode of which had just aired three nights earlier.
Mr. Blagojevich could imagine someday moving to New York, maybe near Central Park, where he liked to jog. Also, the zoo was great. The perfect place to take his two daughters. When he was a kid, his parents sometimes took him to Chicago's Lincoln Park Zoo. Years later, as governor, while wrestling with a state budget, he managed to corral a nice chunk of change for his favorite zoo.
"I've spent my whole adult life working for and serving people," said Mr. Blagojevich, who was impeached in January 2009. "Among the many things that are difficult with this wilderness period I'm in—I miss that feeling."
EARLIER THAT MORNING, Mr. Blagojevich had appeared on The Wendy Williams Show. Afterward, he did an interview with Access Hollywood. At 4 p.m., he would talk about health care reform with Neil Cavuto on Fox News. Then he would pick up his bags and fly home. In the meantime, he still had a couple hours to kill at the deli. Mr. Breslin was resting his chin on the back of his chair and periodically jotting down notes on a pink piece of paper folded into rectangles.
For years, when Mr. Blagojevich's life was going swimmingly, he rose through the ranks of Illinois state politics and blissfully ignored most of the television landscape. He never watched political news. He didn't like all the second guessing. "I watched a lot of Sports Center," said Mr. Blagojevich. And most of the TV world was happy to ignore him.
That changed forever one Tuesday morning in December 2008, when a team of F.B.I. agents arrived at his house and arrested him on a series of charges, including the allegation that Mr. Blagojevich had tried to sell the empty U.S. Senate seat vacated by President Barack Obama. Stepping out of his front door in a black Nike tracksuit, Mr. Blagojevich perp-walked into TV infamy. Henceforth, there would be no more ignoring the ravenous cameras.
ON JUNE 3, Mr. Blagojevich will begin his criminal trial. The impeached governor believes he is innocent and that the trial will ultimately clear him in a court of law. Meantime, he is laboring to clear his good name. TV—having long since displaced church as the all-important venue for achieving redemption in American public life—plays a central role in the process. If Americans will let you into their living room, then there's a chance they'll let you into their hearts.