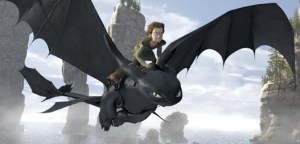 Sobering statistic of the day: There have been 13 weekends in 2010, and in only four was a non-3D film the top choice for ticket buyers. Dreamworks Animation's How to Train Your Dragon was the beneficiary of the dimensional boom this weekend, leading the charts with over $43 million. As we do each Sunday, here's a breakdown of the top five at the box office.
1. How to Train Your Dragon: $43.3 million ($43.3 million total)
For those of you who like your glass half empty: How to Train Your Dragon opened to $16 million less than Monsters vs. Aliens did on this same weekend last year. Of course that film had a better marketing hook and didn't have to battle Alice in Wonderland and Avatar for 3D screens, but hey… negative is negative! That said, the $43.3 million bow plus what is sure to be outstanding word of mouth—Dragon received an A-grade from Cinemascore—means that the animated film should hang around the top-five for quite a few weekends. Count this opening as a win.
2. Alice in Wonderland: $17.3 million ($293.1 million total)
It's not surprising that Alice in Wonderland saw its biggest weekend-to-weekend drop with How to Train Your Dragon gobbling up some screens—Alice tumbled 49 percent—but that the Tim Burton film still hasn't depreciated more than 50 percent since opening speaks loudly to the impact 3D has on box office. If this were a "normal" blockbuster, there is no doubt its staying power wouldn't be so strong.
3. Hot Tub Time Machine: $13.6 million ($13.6 million total)
Back in the summer of 2006, Snakes on a Plane opened to $13.8 million ($15.2 counting midnight screenings) and was considered a bust. That Hot Tub Time Machine could only ring up $13.6 million, then, can only be viewed a wild disappointment. Not that John Cusack is a box office draw—2012 not withstanding, you could argue that he's legitimate box office poison—but since fratty comedies are the flavor of the month, shouldn't the relentlessly marketed Hot Tub Time Machine have grossed more?
4. The Bounty Hunter: $12.4 million ($38.8 million total)
Everyone was quick to pile on The Bounty Hunter after its opening last weekend, but that in only dipped 40 percent in weekend two—without the benefit of 3D!—speaks to its status as a "non-bomb." With nearly $39 million in the bank already, the comedy is already close to recouping its $40 million budget and will be a solid earner for Sony. Take that, Jennifer Aniston haters!
5. Diary of a Wimpy Kid: $10 million ($35.7 million total)
Made for only $15 million, Diary of a Wimpy Kid is already in the black, but that it dropped over 54 percent this weekend shows many word-of-mouth related flaws. After all, that represented the largest drop of any film in the top-ten. Granted it had to compete against How to Train Your Dragon, but this second weekend feels decidedly—wait for it—wimpy.