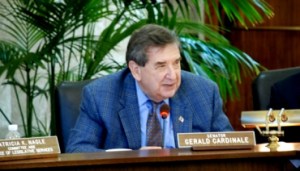 Democrats expressing early reservations about Bob Yudin's appointment to the New Jersey Sports and Exposition Authority (NJSEA) are disingenuous given recent history, said State Sen. Gerald Cardinale (R-Demarest).
Cardinale, who sits on the Senate Judiary Committee, called the Bergen GOP chairman "extraordinarily well qualified," but couldn't summon the same praise for Gov. Jon Corzine's NJSEA appointee last year, Middlesex County Democratic Chairman Joe Spicuzzo.
"They all voted for Spicuzzo to be on same authority," Cardinale told PolitickerNJ.com, referring to Democrats on the committee.
"This is a sheriff (Spicuzzo) who testified that he he didn't have to work at sheriff because he had deputy sheriffs to do the work for him; a sheriff drawing a salary while serving as party chairman. And he said it all rather inarticulately. He can't even string a sentence together."
By contrast, Yudin is a business leader, said the senator.
"He has a couple of very successful outlet stores and possesses exactly the kind of experience we need on the Sports and Expo Authority," Cardinale said. "We need business savvy people who can watch expenses, not political hacks."