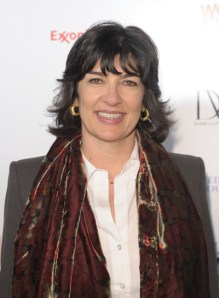 In the end, perhaps somewhat predictably, David Westin went with the biggest star.
Today, Mr. Westin, the president of ABC News, officially announced that the network had hired Christiane Amanpour as the new anchor of the Sunday public affairs program, This Week.
The high-profile D.C. gig has been vacant since the fall when George Stephanopoulos replaced Diane Sawyer on Good Morning America.
During the intervening months, speculation has been rampant about who would fill the job made famous by David Brinkley. Along the way, everyone from Jake Tapper to Terry Moran to Jonathan Karl to Barbara Walters to Elizabeth Vargas to Matthew Dowd have taken turns filling in.
In the end, past was precedent and Mr. Westin bypassed the young up-and-comers, such as Mr. Tapper, in favor of a more established star, CNN's Ms. Amanpour.
In a note to staff today, Mr. Westin announced that Mr. Tapper would serve as the interim host until August, when Ms. Amanpour would take over.
"Christiane will join us from CNN where, for two decades she has reported from the world's major conflicts, including those in Iraq, Afghanistan, Pakistan, Somalia, Rwanda, and the Balkans," wrote Mr. Westin. "She has received every major broadcast journalism award. A formidable interviewer, she has sat down in global exclusives with many of the world's leaders and military chiefs from the Middle East, Iran, Iraq and Afghanistan to Africa, Europe and the United States."
Just as Mr. Stephanopoulos' appointment to GMA raised questions about his suitability for morning television, Ms. Amanpour's appointment to This Week is sure to raise questions about her suitability to the beltway-centric position after building a career based largely on reporting from overseas.
In his note to staff, Mr. Westin suggested that This Week would tweak its format once Ms. Amanpour comes on board. "With Christiane we have the opportunity to provide our audiences with something different on Sunday mornings," he wrote. "We will continue to provide the best in interviews and analysis about domestic politics and policies. But now we will add to that an international perspective."
Whether that's a smart strategy for, at last, catching up with perennial Sunday morning ratings champ Meet the Press remains to be seen.