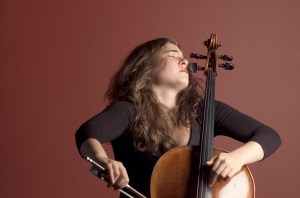 On a recent weekend at Carnegie Hall, the young cellist Alisa Weilerstein had been assigned to the Maestro Suite. It's a comfortable but somewhat unnerving place. When you're inside, it's hard to forget the grand, intimidating tradition of conductors who have performed there. Faded glamour shots of Erich Leinsdorf, Leonard Bernstein and other legends glare down from the walls. Instrumentalists are usually placed elsewhere, but since Ms. Weilerstein was performing with the Orpheus Chamber Orchestra, a conductor-less ensemble, she'd been bumped up. It was a Saturday afternoon, and someone had left her a card, a bottle of wine and three apples on a side table.
"Which one of them's poisoned?" her publicist joked, as Ms. Weilerstein, with her long dark hair, a knit dress and chunky black boots, hung up her outfit for the concert that evening, a flowing gown several shades of red brighter than the apples.
"I'm very optimistic about the future of classical music," Ms. Weilerstein told The Observer. And she has reason to be: She stars in it! Already 15 years into her professional career, though she's only 27, Ms. Weilerstein is poised to pass the border that separates "up-and-coming" from "renowned." She plays everywhere, with the world's finest orchestras. Composers write pieces for her. Last November, she performed for President Obama.
Yet she's still small-scale enough to get away with one of the treats–at least for the underemployed–of the spring: Three intimate lunchtime recitals on April 19, 20 and 21, in which she'll perform the final three of Bach's cello suites. But not at Carnegie (2,800 seats) or Avery Fisher (2,700). No, she's returning to the cozy, unassuming reading room at Philosophy Hall, which houses the English department at Columbia University, her alma mater.
"It's a wonderful space," said Ms. Weilerstein. "I take playing Bach in public extremely seriously. I did the first three suites in the fall, and it was actually one of the nicest atmospheres to play Bach in. It was a very informal, friendly atmosphere, because playing Bach is quite intense."
Ms. Weilerstein, too, is extremely serious and quite intense. At the age of 4, she demanded a cello, but her parents, both accomplished musicians, were
reluctant. Instead, she started playing on an instrument her grandmother made for her out of cereal boxes. When her parents finally bought her a real cello, it was only six months before she performed in public for the first time.
Her performances have a dramatic but unaffected physicality. During the Orpheus concert, she finished a phrase and her left hand launched into a long, slow arc down to her side. This physical abandon, as well as the fact that there are too few women in the top ranks of cellists, have led some to compare her to the legendary, epically passionate Jacqueline du Pré.
"She was a huge influence on me when I was a kid," said Ms. Weilerstein. "I listened to four cellists: Casals, her, Piatigorsky and Rostropovich. I love them all, but she was it for me. I saw every bit of video footage, listened to every recording. I was about maybe 12 or 13. Most people describe me as an intense person, and I was also very intense when I was a kid. Believe me, I really listened to it."
If Ms. Weilerstein needs one more push to enter the realm of Yo-Yo Ma, it may come by taking du Pré's mantle on April 27, when she performs Elgar's wrenchingly emotional Cello Concerto with the Berlin Philharmonic, conducted by Daniel Barenboim. This is the biggest of the big leagues: Not only will it be televised live and released on DVD, not only is it the Berlin Phil, but Mr. Barenboim was married to du Pré, the Elgar concerto's greatest champion, who died in 1987 at the age of 42. The couple's 1970 live recording of the work is a landmark.
Mr. Barenboim's blessing came, as it happens, in the Maestro Suite. "He was doing Mahler and he was here, he was at Carnegie," Ms. Weilerstein recalled,
"and he asked me to come see him, and I played the Elgar concerto for him, which is the hardest thing I've done for anyone in my life, to play that piece for him, with all of the connotations and all that that implies, so it was here that he asked me to play it with him. I remember it was a gorgeous day in May, almost a year ago, and I walked for half an hour and I ended up in Sheep's Meadow." She laughed. "I don't know how I got there!"
As Ms. Weilerstein settles into the kind of career she's always dreamed of, the only problem is one of balance. Indeed, she's spent only three weeks total in the one-bedroom on 146th and Riverside that she bought a year and a half ago.
"Right now, I'm finding out what my limit is," she said. "It's very hard to find a middle ground between not having enough and having too much. I have the luxury of being selective now. I hope that lasts."
THE LIST
Hyper Hyped
Valery Gergiev's "The Russian Stravinsky" festival at the New York Philharmonic (4/21-5/8)
Maurizio Pollini, pianist, in three Chopin Recitals at Carnegie Hall (4/18, 4/29, 5/9)
Gustavo Dudamel and the Los Angeles Philharmonic at Lincoln Center (5/20-5/22)
But Don't Forget About…
The reopening of ISSUE Project Room in its new downtown Brooklyn space (4/11)
Eighth Blackbird at People's Symphony (5/8)
John Adams conducting Andriessen's De Staat at Carnegie (5/10)