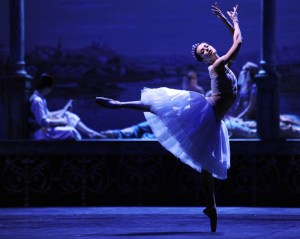 As always, the two big companies wheel into Lincoln Center and overlap between April 29 (City Ballet Opening Night Gala) and July 10 (ABT's final Romeo and Juliet).
ABT is also unveiling a production of John Neumeier's full-evening The Lady of the Camellias from 1978. It's not up my alley, but it may be up yours. Other full-evenings: La Bayadèere, The Sleeping Beauty, Don Quixote and—surprise!—Swan Lake. If these are your meat, remember: Check casting. Among the ballerinas to look for are Diana Vishneva, Natalia Osipova and Alina Cojocaru, from the Royal Ballet, in her one performance of the season—a matinee of Sleeping Beauty. Now that's peculiar! More appealing for some of us will be the season's two mixed bills. One is all-Ashton, including his ravishing The Dream and Birthday Offering; the other brings together a Ratmansky (On the Dnieper), a Robbins (the ever-happy Fancy Free) and a particularly welcome return, Twyla Tharp's impressive Brahms-Haydn Variations.
New York City Ballet is boasting seven—count 'em, seven—new ballets. First, and most highly anticipated, a new Ratmansky. There are premieres by England's much admired Wayne McGregor, Benjamin Millepied (yes, yet another one), Christopher Wheeldon, Melissa Barak, Mauro Bigonzetti and Peter Martins. It sounds exciting, but don't get your hopes too high: History suggests that not that many new ballets turn out to be keepers. It will certainly be interesting to see which ones of these seven make it. City Ballet is also honoring the retirement of four of its principal dancers at successive Sunday matinees: Yvonne Borree on June 6, Philip Neal on June 13, Albert Evans on June 20 and Darci Kistler on June 27. (To some of us it was only yesterday when that glorious girl first appeared, in 1980.)
Otherwise, it's repertory as usual—some great (and a few not-so-great) Balanchine works and a bunch of Robbins (you'll be able to compare City Ballet's Fancy Free to ABT's, and last season's The Lady With the Little Dog—a dog). But Serenade? Symphony in Three Movements? The Four Temperaments? They don't make them like those anymore.
We can only single out a few of the countless other dance possibilities coming up. For some of us, there's special resonance in the centenary celebration of Alwin Nikolais at the Joyce (starting May 4) in the return of the Martha Graham company, also at the Joyce (starting June 8) and of course the 40th anniversary Trisha Brown season at the Baryshnikov Arts Center, starting April 7 and featuring her Opal Loop/Cloud Installation #72503. (For more of Trisha Brown, there's a completely different program up the river at Bard, beginning July 8.)
The Richmond Ballet, Taylor II, Ailey II, ABT II, Amy Marshall, Avi Scher, Nacho Suato, Pam Tamowitz, an Eiko & Koma retrospective (at Dance at St. Marks), Dance Africa, Molissa Fenley—there's something for everyone; just track down your favorites. And don't forget the most anticipated event of all, at least for dance critics: The School of American Ballet workshop weekend at Juilliard, the weekend of June 5.