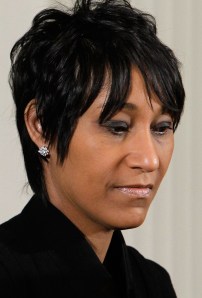 To the list of transgressions that may have led to the unceremonious departure of former White House Social Secretary Desiree Rogers–wearing expensive things; talking about the president's brand; not screening reality television stars–add that she apparently didn't send out Christmas cards.
Or, at least, she didn't send them to the right wealthy donors, who proceeded to rise up and ousted Ms. Rogers, a source told Politico.
"While such a slight may seem insignificant, it can carry major repercussions," writes Jeanne Cummings, who uses the Christmas card issue in the lead of a piece about dissatisfaction among President Obama's wealthy donors.
According to the report, the D.N.C. is lagging–not behind the R.N.C., which has its own considerable problems under Michael Steele–but behind the pace of the old R.N.C., back when it was in power.
And–possibly because fewer Christmas cards arrived in New York, or perhaps because of the president's war on Wall Street–this city has been particularly stingy, it seems. Los Angeles has passed us, at least for the time being, as the city most eagerly filling the party coffers.