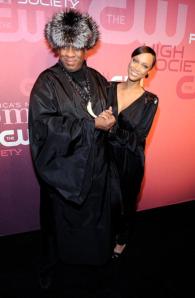 Anna Wintour claimed last month that she was eager to see Andre Leon Talley's stint as a judge on America's Next top Model. But in a new interview with New York, Talley expresses doubt:
Has Anna seen the show now that you're on it?
Oh no, Anna doesn't look at television. Maybe tennis. Just tennis.

She's not a fan of reality TV?
Well, we haven't discussed it, but I don't think she's a television-watcher. I've been to her home many times and I've never seen her watch the TV.

Does she own one?
I … I don't know! I never even realized! I don't recall her having a TV! There's certainly no TV in her living room. I think there may be a TV in her guest room.
To be fair, Wintour's statement was "I look forward to watching him on the program," which does not exactly scream "regular viewing habits."