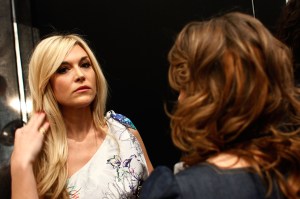 High Society, Tinsley Mortimer's much-awaited reality show, finally premiered on the CW last night. And? Well, it's pretty much what we expected. Paul Johnson-Calderon called Jules Kirby a "beak-nosed bitch"; Ms. Kirby called him a "an AIDS victim" (he's not); and the Tinz spun around in pretty dresses, expertly avoiding the drama, except for the painfully awkward scene in which Ms. Mortimer lays down on her bed–in jeans, a sweater, and green (green!) Converses–and sobs uncontrollably over her divorce from Topper.
But we also learned some things. For instance Ms. Mortimer finally admitted on camera that Topper's family had a problem with her self-publicizing antics. "Topper, his family just hated that I was out there getting photographed all the time," she said. "Because in the old world of New York society you were only in the newspapers when you were born, you got married, and you died. And that was it." Topper's face is blurred out during his brief appearance on the show, which makes him look like a headless, walking suit. We also learned that much of the drama will be created by Dale Mercer, Ms. Mortimer's mother, who will try to get her daughter and Topper back together; that in socialite land, getting a drink thrown in your face sometimes requires calling the ambulance and the police (such was the unfortunate fate of Alexandra Osipow, who got in the way of Ms. Kirby and Mr. Johnson-Calderon's fight.); and, judging by Harvey Weinstein's non-blurry appearance on the show, he actually agreed to sign the disclosure agreement!
All-in-all the show was not-good in that very specific way that might actually bring in audiences. (Socialite Tatiana Platt posted to her Facebook last night: "Tatiana Platt was pretty horrifed by High Society last night.")
At the end of the episode Tinsley suggests that the audience check out some extras on the CW's website to learn interesting things about her, like whether she "eats Street Meat." We went, we tried to find out, and alas could not locate the answer.