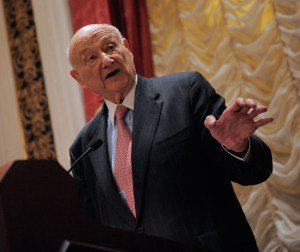 Ed Koch is plotting a coup.
"Now is the time to deal with our sad state of affairs in Albany," the 85-year old former mayor wrote in a letter that's being circulated to anyone who might want to join up, according to The Times. "The key must be the defeat of those incumbents, regardless of party, who are responsible for this odious situation, and the election of new candidates, committed to a reform agenda, to take their place." The letter was also signed by Dick Dadey of Citizens Union and Henry Stern of New York Civic.
The plan seems to be to unseat incumbents–not all, but some. The letter doesn't say specifically who might be targeted.
Several good government groups weren't sure they were legally allowed to take aim at specific legislators, so it remains to be seen who will show up for the planning meeting next Friday morning. But Mr. Koch is undeterred.
"I finally said to myself, somebody's got to do something," Mr. Koch told The Times. "And if no one else does anything, notwithstanding the fact I'm 85 years old, I'm going to throw myself into it."