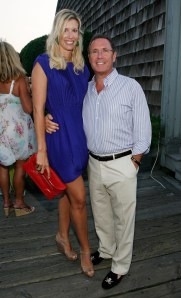 Andrew Farkas is back in Manhattan, reports the Wall Street Journal.
He has acquired Centerline Holding Company, a commercial real estate servicer that is servicing more than $110 billion dollars in mortgages, including several backing some of the city's most substantial skyscrapers.
Mr. Farkas–whose name means "wolf" in Hungarian–had previously hunted for Manhattan real estate, snatching up distressed real estate partnerhips in the 1990s, before becoming Dubai World's man in Manhattan. He cashed out that stake just before Dubai World admitted it would have trouble paying back its myriad creditors.
The deal keeps Centerline out of bankruptcy, but, according to the Journal, leaves many of its bondholders wondering how aggressively Mr. Farkas will represent their interests.
The move might also be bad news for–of all people–Andrew Cuomo, a former employee of Mr. Farkas's Island Capital Group. When he ran for attorney general in 2006, Mr. Cuomo was forced to answer questions about how he came to work for Mr. Farkas, after Mr. Cuomo had previously authorized a suit against Mr. Farkas's former firm when the aspiring A.G. was secretary of H.U.D. in the late 1990s. Mr. Farkas went on to become one of Mr. Cuomo's most generous donors, according to the Village Voice, and the re-emergence of Mr. Farkas comes as Mr. Cuomo prepares a long-presumed bid for governor.