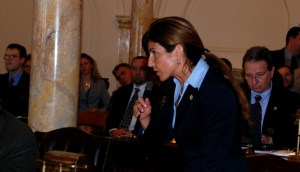 State Sen. Jennifer Beck (R-Red Bank) went to the last Marlboro Township Council meeting prepared to discuss the former local psychiatric hospital, but between the time she put the meeting on her schedule and last Thursday night, Gov. Chris Christie introduced his state budget, creating a whole other context for a meshugenah encounter.
"The message is a horrible one to be delivering," admitted Beck. "And the message is being received with a lot of consternation."
Under Christie's proposed budget, Marlboro's schools would lose 30% of their state aid and the town government would lose 25% of its municipal aid, punishing cuts to a town that has already reduced its budget seven percent in two years, according to Mayor Jon Hornik, a Democrat who's friendly with Beck – who's also mentioned in Democratic Party circles as a potential 2011 challenger to the GOP senator.
After two years of circling each other while enjoying bipartisan rapport, Christie's budget proposal just put these two nose-to-nose in the political arena.
"I'm mad," Hornik told Beck.
"Asking us to do something that's impossible to do is not a solution," argued the mayor, who says Christie last Tuesday proposed the equivalent of an unfunded mandate by making deep cuts and capping spending while equipping Hornik with no new tools he says he would need in to effectively grapple with nondiscretionary costs, which compose 70% of his local budget: pensions, insurance, public safety and contracts.
"You're looking at a government here that over the last two years has painstakingly done the things you suggested we do," Hornik told Beck. "These residents don't have access to their government on Fridays, because we furloughed them. We took 11% of these ladies' salaries away already. We had layoff rounds – two in Marlboro – and got rid of people. We negotiated with the CWA day and night and got what I said to you earlier was the best contract in New Jersey over a four-year period. I cannot take more money from these people because they're not going to come to work. …I cannot fire half the police force to make up for this cut in aid.
"This is meant to fail," the mayor added of Christie's budget. "This is so the governor can sit there and say, 'I was handed a mess, it's not my fault.' He's saying he's not raising taxes? He is raising taxes, because there's no where to go. …Marlboro's in a different situation than other towns. Maybe some of the urban centers, maybe some of the Abbott Districts that have gotten so much money over the years – we didn't – and for us to be treated in the same way is not right, it is not fair, and quite frankly, it's just not acceptable."
Beck listened. She concedes no one in her legislative district is happy about the numbers.
The school supers aren't happy, and mayors like Hornik are unhappy.
But she disagrees with Hornik.
She does not believe he's cut sufficiently – given the times.
"The mayor is shell-shocked," the senator said. "He has acted responsibly, but my argument is I don't think it's true there's no place else to cut."
Beck said the council awarded contracts without bid last year, and hired new police officers.
"They have their own TV station, Channel 77," she added. "I know it's not easy, but we are in horrendous economic circumstances, and everyone has to sit back and re-examine stuff we thought was indispensible. His (police) contract, for example, only required $250 contributions to health benefits. Most private sector employees only contribute 15% of the premium."
Beck rejected Hornik's suggestion that Christie is simply posturing with his budget.
"That would be a correct interpretation if you were talking about Jon Corzine,' said the senator. "But not this guy. This guy doesn't bluff. Government can't grow faster than its citizens can pay for it, and that's where New Jersey is."
Hornik rejected Beck's offer to help scour his budget.
"If the senate and the legislature want to give mayors the tools and the authority to void contracts and write in new numbers, then give us the tools, because I promise you I will do it, but this governor is proposing nothing of the kind. If he really wanted to give me the tools, he would get rid of interest arbitration, but he doesn't. He panders to both sides in his speech."
Beck said Christie's team examined excising arbitration, but couldn't make it happen.
"It is clear that for you to control your own destiny, you need to be able to control your negotiations," the senator told Hornik, arguing that failing the elimination of arbitration, the next best was securing recognition during contract negotiations of the cap imposed on a muncipality.
"You can't have an arbitrator force you to accept a contract where your employees aren't making a contribution to health benefits if indeed it's going to push you above the (proposed 2.5%) cap," said Beck.
Backlash on the municipal side provides only half the state aid stir in Marlboro.
Education, of course, is the other half, and the news noted by Hornik of a 30% reduction in Marlboro school aid impacts just days before the Board finalizes its budget after NJEA contract negotiations with the union.
In this case, the governor had already specifically gone on the offensive in public remarks concerning the local contract, which the Board is scheduled to approve this coming Thursday.
"After a two-year negotiation, Marlboro gave teachers a five-year contract with 4.5 percent annual salary increases — with zero contribution to health-care benefits," Christie fumed earlier this month in a speech to mayors.
"Yet I'm sure there are people in Marlboro who've lost their jobs, who've had their homes foreclosed on, who can't keep a roof over their family's head."
The governor amplified the point last week in his budget speech without calling Marboro by name.
"Political muscle fueled by intimidation tactics, political bullying and smears of public officials who dare to disagree," Christie said. "This conduct has set up an unfair system. Is it fair to have any public employees getting 4-5% salary increases every year, even when inflation is zero %, paid for by citizens struggling to survive? It is fair to have New Jersey taxpayers foot the bill for 100% of the health insurance costs of teachers and their families from the day they are hired until the day they die?"
Hornik wouldn't answer in the affirmative, but continued to argue that without an end to arbitration and other local tools, Christie's rhetoric in Tuesday's speech calling for "fundamental fairness" to all sides in contract negotiations amounted to pandering.
"Okay, he's a politician, I get it," Hornik said.