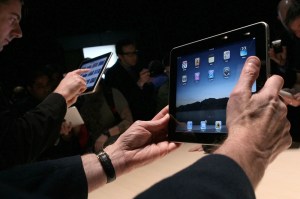 The iPad's inability to run Flash had the potential to be a major issue for web browsing–but it looks like people will suck it up and deal with Apple's Adobe antipathy in order to have their content on the tablet.
Both National Public Radio and the Wall Street Journal are designing Flash-free offerings to suit the iPad, reports Peter Kafka at MediaMemo:
Alas, NPR won't let me see a demo or look at mock-ups, [in] part, I gather, because the network is still building the things.

But here's something to chew on until launch: Wilson says that while iPhone apps are a "very intentional experience"-you load the thing up and seek out specific content-he thinks the iPad will be a "lean back device." That's traditionally the distinction multimedia types use to differentiate between a computer and a TV. Intriguing.
We always thought of NPR as a "buckle your seatbelt for a slow drive in Northern California" kind of experience, but hey!