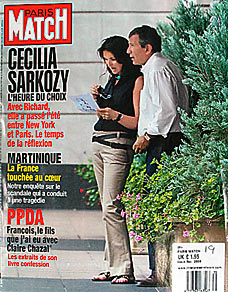 On a 2005 cover of Paris Match, France's gossip weekly, a lithe and wrinkle-free Cecilia Sarkozy, elegantly casual in khakis and flat sandals, perused the floorplan of a New York City apartment with a male companion.
Shortly after the cover's publication, the editor-in-chief of the weekly rag was fired; he quickly claimed Nicolas Sarkozy, then the nation's interior minister and a presidential candidate, was to blame. Why did the bulldog, soon-to-be Bruni-bedding, would-be French No. 1 play Donald Trump with the editor? Because the man pictured with his then-wife wasn't him! It was Cecilia's lover, global events producer Richard Attias.
But that's all ancient history.
Since that 2005 floorplan inspection, Cecilia returned to her husband long enough for him to call France's youth "scum;" to become elected president; and to begin an affair of his own with singer/model Carla Bruni. By this time, Cecilia finally divorced the Napoleonic premier and moved across the pond to make her relationship with Mr. Attias official, marrying at the Rainbow Room in 2008.
Now the couple, who split their time between New York City and Greenwich, Conn., have put their window shopping to action, purchasing a two-bedroom duplex at 322 East 57th Street for $3.2 million, according to city records. The seven-room duplex is located in the Neo-classical, limestone-facaded 1929 building dubbed, "one of the most storied coops in New York City" by the Brown Harris Stevens listing, and is the home of famed Mr. Chow's restaurant on the first floor.
The double-height living rooms—soaring over 19 feet high—are the maraschino cherry to the co-op's sundae, famously attracting a slew of artists and Manhattan intelligentsia over the years, including Senator Jacob Javits, Orson Welles, paintress Tamara de Lempicka, sopranos Lily Pon and Sarah Pelletier, and Pon's conductor husband, Adam Kostelanetz. Kathy Lee Gifford also once called the building home.
The apartment, bought in an estate sale by Mr. and Ms. Attias, has not been available since 1947, when its late owner, MGM actress and former Ziegfeld girl Mary Howard and her Broadway producer husband, Alfred de Liagre, bought it for $10,000, quite a rate of return, n'est pas?! Brown Harris Stevens' broker Maria Torresy had the listing.
With two wood-burning fireplaces, four city view exposures, a maid's room with its own ensuite bathroom and Mr. Chow's in the lobby, the late thespian's home is "a jewel waiting to be restored to its former luster." Time for Ms. Attias to put on her renovating gloves, a convenient occupation for the French femme, who, when asked by French reporters why she left her presidential husband, famously answered, "I was beginning to feel like a piece of furniture."
More Manhattan Transfers:
Mystery Buyer Goes Into Contract at 26 West 76th for $19.5 M.
La-La's Public Health Maestro Buys N.Y.C. Condo for $2.62 M.
A Majestic Departure? Conan Lists His CPW Apartment for $29.5 M.
.