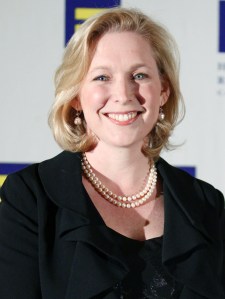 For awhile, it looked like Kirsten Gillibrand might never go on Morning Joe.
Ms. Gillibrand has been judicious in her television appearances since she became a senator last January, and has reportedly declined invititations to step into what seemed like particularly hostile territory–what with host Joe Scarborough offering to knock on doors for her erstwhile challenger, Harold Ford Jr.
But, after Mr. Ford's exit, and a lunch date with co-host Mika Brzezinksi, Ms. Gillibrand made her Morning Joe debut today. She deflected questions about Mr. Ford and Charlie Rangel, said she had always supported same-sex marriage, and explained that her focus broadened on guns when she became a statewide representative. She sparred gently with Andrew Ross Sorkin on health care reform, which she said would be good for New York.
It didn't break much new ground, but the 12-minute, nationally televised segment suggests that–after an occassionally rocky first year in front of the cameras–Ms. Gillibrand's camp believes she's found her voice.