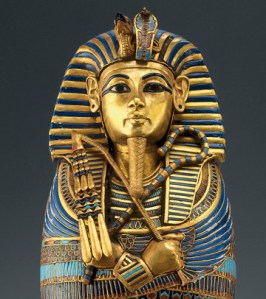 In 1978, as crowds packed the Metropolitan Museum of Art's blockbuster "King Tut," Steve Martin had a hit with the novelty song about the doomed pharaoh. "Now, if I'd known they'd line up just to see him, I'd trade in all my money and bought me a museum." Thirty years later, the boy king, his fellow rulers and their fortunes are back on view in New York—resurrected from their climate-controlled sarcophagi for the Met, the Brooklyn Museum and, in April, for a special exhibition space in Times Square.
Centuries-old vases, Coptic headpieces and golden royal trinkets have begun to arrive to go on display in a trio of warring, would-be audience draws. Why the sudden mummification of New York? Combine a healthy sense of box office competition with children's love of all things creepy, and you have part of the answer. But there's a little backstory, too, about the politics that brought King Tutankhamun to New York—but not to either of its two museums known around the world for their Egyptology departments.
First, the story of the king: He ruled in the 18th dynasty, with little distinguishing his short tenure, historians say, save for a move from one god back to many. He died in about 1327 B.C., at age 18 or 19. In recent years, various C.S.I.-like scientific groups have sought to find out why, with murder, a broken leg or malaria being the most common conclusions. In 1922, his tomb—KV62, a phrase still said by Egyptologists with awe—was found, its spectacular contents intact. Decades later, in a blockbuster dreamed up by Richard Nixon in a cold war swipe at the Russians (according to the letters of former Met museum director Thomas Hoving), those treasures toured the U.S. Tut broke all existing records for museum attendance.
But when Egypt proposed a reunion tour in 2004, the Met, surprisingly, balked. The Egyptian government was charging such hefty fees for the loan that the exhibit would have required a separate admission charge above the current "suggested $20." Philippe de Montebello, director of the Met, passed. Brooklyn demurred, too, in part because, frankly, they don't need loans, said Eric Bleiberg, curator of the current show there. The museum's 9,000-strong collection of relics from the region is "an Egyptologist's candy store," he notes.
Ohio-based Arts and Exhibitions International, best known for its "Princess Diana: A Celebration" show, nonetheless went forward with a multi-city deal. "We pay the Egyptians a large guarantee and they participate" in the revenues generated by the show, said AEI president John Norman. Egypt's Antiquities division had said it hopes to garner $40 million from the five-year tour, revenues that will go toward the construction of a museum. At the exhibition, a busy gift shop features "Kooky Mummy Pens" for $4.95"; Indiana Jones–style "explorer" hats; Halloween masks; and three styles of refrigerator magnet. There's even a private event space for rental. "Party with the Boy King … enjoy themed menus … hold your event at Pharaoh's Palace," the exhibition's marketing material invites.
For years, the tour criss-crossed the country, to Los Angeles, Chicago, Fort Lauderdale, Philadelphia and San Francisco. It looked like New York would be one of the few major cities to miss Tut. But, when The New York Times relocated and a company retrofitted the printing plant to make an exhibition space, AEI found a climate-controlled, 20,000-square-foot home for the show in New York. "King Tut and the Golden Age of the Pharoahs" opens April 23 at the Discovery Center in Times Square. The show, with a $27.50 admission fee for adults, features relics from both other pharaohs and Tut, although not all the same treasures that toured decades ago. (Some don't leave Egypt anymore.)
Brooklyn says its current show was already in the works when Tut booked Manhattan. But on May 5, it opens a show with two actual mummies (something the "Golden Age" blockbuster conspicuously lacks). And the Met's "Funeral" exhibition was only announced recently. Mr. Norman said he's not surprised to find that New York will be flush with Egypt shows. "People get Tut fever," he said. "We take it as a benefit." Their shows "will help to create that Egyptomania buzz," he said. But, "we are the main exhibit."