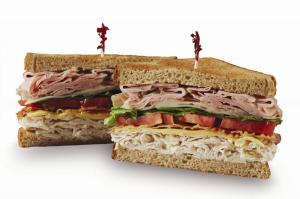 The sexts between Tiger Woods and Joslyn James are perhaps the worst PR for extramarital hanky-panky since pizza aficionados Bill Clinton and Monica Lewinsky. "Where do you want to be bitten," the golfer asks the porn star in one exchange, perhaps indicatively forgetting the question mark. And Ms. James' shapely buttocks were not all he wanted to chomp.
When the day finally comes to see each other, Mr. Woods goes all suddenly MapQuest: "You are going to be headed to the hyatt lodge. 2815 jorie blvd oak brook, il 60523. Phone 630 990 5800." Then Yelpful: 6:30 p.m.: "Let me know when your about 20 out i will order dinner. And what would you like to eat"… 7:09: "What do you want to eat"… 7:12: "No turkey unless it's a club sandwich."
Food is actually a subject discussed often by forbidden lovers. Stephanie Santoro, the nanny who claimed to have a relationship with Jon Gosselin, published these text messages:
Mr. Gosselin: "I'm worried the girls might say something to Kate. I'm thinking around 10:20. Is that ok. I don't want to ruin your chances on working here."
Ms. Santoro: "That's fine … I wanna grab a milkshake anyways … So I'll take the long way … That' okay…? And thank u love. Really u have no idea how grateful I am to have u as a great friend in my life let along everything else."
Comestibles even make an appearance within some 14,000 text messages exchanged between former Detroit mayor Kwame Kilpatrick and his chief of staff, Christine Beatty.
Mr. Kilpatrick: "At Benz Chilli Bowl. Be there in a ec." (Burp!)
Ms. Beatty: "Page me when you're on you're on the way upstairs so I can cut the TV off."
Mr. Kilpatrick: "Will arrive in 10"
Meanwhile, in the text messages revealed last week between Sandra Bullock's husband, Jesse James (no relation to Joslyn), and Michelle "Bombshell" McGee, there is a one from
Mr. James that says "speaking of licking??" Could be they were meeting up for snow cones.