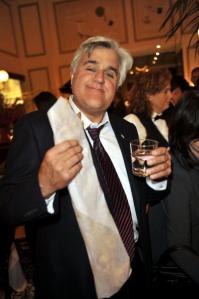 The Times, meanwhile, recounted Letterman's sideline heckling:
"Thank you very much, welcome to the 'Late Show,' my name is Dave Letterman — same time, same host."

"I want to tell you something, tonight is a rough night for my mom. She doesn't know who to watch — Jimmy Kimmel or Jay."

Mr. Letterman also joked about Gov. David A. Paterson's problems, saying that Mr. Paterson had announced he would not run for election, but that "Jay had nothing to do with it."
And the Post was preoccupied with Leno's new set:
Leno's desk and couch were back, replacing the two facing armchairs he had used to interview guests on "The Jay Leno Show."…

Viewers also saw an all-new set — dark wood and blue light — which was warmer than the "Leno Show" set.

Gone, too, were the glass doors through which Leno had entered — and a few guests stumbled into.

It was replaced by an large arch.
But maybe the drama is all for nothing–The Kansas City Star's Aaron Barnhart ("the dean of Leno criticism," per Felix Gillette) wrote before the show that "there may be some damage initially, but longer term is a different story."
Thus Leno takes his place alongside death and taxes.