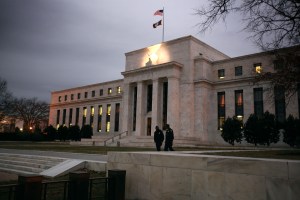 In November 2008, just after the government bailed out the banking system, Bloomberg News sent a little FOIA request asking for all of the documents related to the emergency loans made by the Federal Reserve.
The government politely declined, saying banks might be hurt if the public knew which financial institutions were on the brink, and how close they were. (But, really, didn't we cover most of this in Too Big To Fail?) Bloomberg said it was the public's right to know, since it was the public's money. The whole thing went to court, and that's where it's been for a year and a half now.
This morning, an appeals court finally ruled that the government must release the documents. Of course, it's just a lowly federal appeals court, so we won't actually see anything until the Supreme Court decides whether or not it's going to bother with the case.