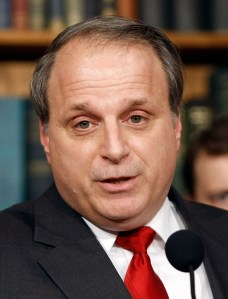 The House Ethics Committee has said it's done investigating salty former Congressman Eric Massa, the Daily News has not.
Yesterday, the paper sent a reporter to the house where the alleged snorkeler admittedly lived with his male staffers before his chief of staff had a "conniption" over the arrangement. And, as it did with its earlier Massa stories, the News put a line in the water for any more information on the former Congressman.
Did you receive an "inappropriate" text message from ex-Rep. Massa? E-mail us privately and safely at news@nydailynews.com. Confidentiality is assured.
"I'm sure there's text messages," Mr. Massa told Glenn Beck on Monday. "We bantered back and forth all the time." What kind of banter, wondered the Daily News? "Inappropriate," he said.