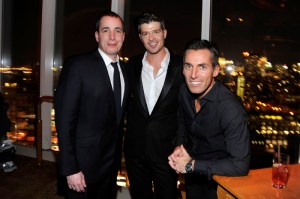 At 9 p.m. on March 1, under a full moon at the hippest bar in town, the Boom Boom Room at the Standard Hotel, Dan Peres and Bill Wackermann embraced. The editor and publisher of Details were celebrating what they were calling its 10th anniversary (even though it wasn't). The room was packed. There was an open bar for four hours. Robin Thicke jumped on top of a piano and sang Happy Birthday. Waiters carried trays of tequila-spiked cupcakes lit up by sparklers.
There was the faux anniversary, yes, but there was another reason to celebrate: In 2009, a year of reckoning for Condé Nast, when six magazines were shuttered and hundreds were laid off and millions of dollars were shed off the budget, Details survived.
And yet the question persists in almost every corner of the magazine world: How, and why, does Details still exist?
When popular Condé Nast titles Gourmet and Domino folded last year, vigils popped up everywhere: on the Internet, on television, in the papers. But you get the feeling that if Details died, its wake wouldn't be very well attended. "Why are we still here and Gourmet is not? Why are we here and Cookie is not?" said Dan Peres, the 10-year editor of Details. "I may have opinions to those things, but it's simply: We're still here. As I said to my team, after those decisions were made, we deserve to still be here, and now we have to earn it."
>>READ KOBLIN'S BACKSTORY: THE GILDED AGE OF CONDE NAST IS OVER
Condé Nast sources explained it this way: Details is around because it doesn't hurt the company. "It's not such a glaring thing on the bottom line," said one Condé Nast source. "It doesn't make any money, but it doesn't lose a lot of money, either. Why close it and cause the drama?"
"It may not be a cash cow, but if it's a rounding error, who cares?" said a Condé publisher.
"The reality is, we're most certainly one of the smallest magazines in the company in terms of circulation, budget, resources, head count and, to some degree, what our contribution can be and has been to the bottom line of this company," said Mr. Peres.
Last year, Condé Nast's decisions, inspired by a review from the consulting firm McKinsey, were ruthlessly practical: The magazines that made the money stayed, and the ones that didn't folded. This is why a magazine like Bon Appetit, which may lack all the emotional capital that Gourmet had stockpiled, survived, and Ruth Reichl's title did not.
Moreover, sources explained, executives at the company felt that it was critical to have two men's magazines in the same house. Peter Hunsinger, the publisher of GQ, lobbied for Details' continued existence last year, sources said. The logic went like this: Most of the advertisers in Details are ones that GQ has already. GQ doesn't view Details as a rival, and, at least within the corridors of 4 Times Square, it doesn't see Esquire as real competition right now, either. But if Details suddenly disappeared, where would those advertisers go? Well, they'd have plenty of reasons to take a hard look at Esquire. At the least, there would be extra money for advertisers to spread around in an increasingly smaller market. And then suddenly GQ could have an Elle vs. Vogue situation on its hands with Esquire—something it most certainly does not want, and Condé Nast doesn't need.
"We are stronger together; we run the town," said Mr. Hunsinger.
The other person responsible for Details' continued life is Bill Wackermann, the influential publisher of Glamour, who convinced Si Newhouse and Chuck Townsend that he should have a chance to get his hands on the magazine. Details, he argued, isn't a legacy title. GQ and Vanity Fair are magazines whose strength lies in their history. Details can be experimented with; it can feel fresh.
They listened and fired Details publisher Steven DeLuca and replaced him with Mr. Wackermann as publishing director.
"I haven't been shy about my enthusiasm for this magazine," said Mr. Wackermann.
Certainly, the magazine needed to get off to a quick start. Late last year, shortly after he got the job, Mr. Wackermann took Mr. Peres and some editorial and business staffers to the Greenwich Hotel and argued why there needed to be a 10th anniversary issue. It was a curious thing to some: Details is in its 28th year of publication, and even if you count its birth date after it was relaunched by Fairchild in 2000, then its anniversary is in the fall, not March.