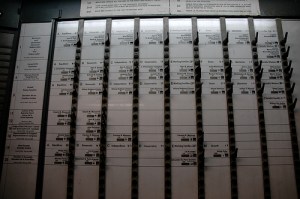 City Councilman Vinny Ignizio said there's one criteria Republicans should consider when deciding whether to stick with Rick Lazio, or embrace Steve Levy: Who will ll keep Republicans from getting bounced from their ballot line.
"A strong top of the ticket is imperative because it ensures ballot position for the next four years," Ignizio told me. "I have legitimate concerns about ensuring the Republican Party takes Line A, if not, stays on Line B and that should be the focus of all Republicans this year."
"That's the underlying current of any gubernatorial year," said Ignizio. "You want to improve, not lose, the row you're currently on."
Ballot lines are determined by the number of votes a party receives in the gubernatorial race. The more votes you get, the closer to Row A the party appears. Democrats are on Row A, Republicans are on Row B, Independence is on Row C, Conservatives are on Row D, and the Working Families Party is on Row E.
Any party that doesn't get at least 50,000 votes loses their automatic place on the ballot, which happened in 2002 when the Liberal Party backed Andrew Cuomo, who withdrew days before the election.