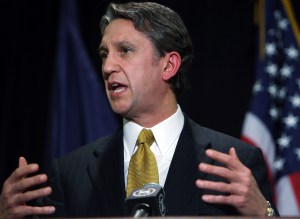 Rick Lazio had been campaigning for governor for more than a year when he was invited to a meeting on March 9 with a group of Republican Party vice chairmen. They wanted to hear how his campaign was doing.
Mr. Lazio, who was then the only declared candidate in the Republican primary, and who had secured the backing of Rudy Giuliani and leaders from across the state, was in for a surprise. The group, he was told, had also invited Steve Levy, the well-funded Democratic county executive from Suffolk, who was known to be considering a run for governor. New York's Republican Party has been struggling, to say the least, in recent years. But was putting a recently defected Democrat for governor a sign of how the party planned to get back on its feet?
After he found out that Mr. Levy had been invited, Mr. Lazio, whose reputation as being too nice is only enhanced by his still-boyish face, picked up the phone and called Ed Cox, the Republican State Party chair, who had arranged the meeting.
Mr. Lazio cursed him out, and the phone call ended shortly after. George Pataki endorsed him the next day.
"Rick was very forceful in explaining to the chairman how unfortunate he thought it was that they were heading down this path," said Mr. Lazio's campaign manager, Kevin Fullington. He declined to elaborate.
"I don't think he welcomed it," Mr. Cox said. "And he decided not to do it."
On March 19, Mr. Levy announced that he is officially running for governor—as a Republican, which means that Mr. Lazio, who ran against Hillary Clinton after Rudy Giuliani dropped out of the 2000 Senate race, is facing a primary challenge from, basically, a Democrat.
Mr. Levy's entrance into the race was carried live on television and radio around the state, and noted by the national media. Almost immediately, it looked like Mr. Lazio was done for. As it was, his campaign thus far had been quietly limping along, raising about $600,000 as of January—compared to the $4,109,651.50 Mr. Levy has been amassing for some time. Mr. Lazio's hometown chairman, John LaValle of Suffolk County, quickly abandoned him. So did a number of county chairs—Onondaga, Queens, the Bronx—who had previously pledged to support him. Others privately said they were no longer dedicated to supporting Mr. Lazio. (Right-leaning opinion leaders, like Conservative Party chair Mike Long, stayed with Mr. Lazio.)
Then Mr. Lazio surprised everyone. After the announcement, Mr. Lazio went on the offensive, suddenly appearing as a vigorous campaigner and sharp critic of Democrats with an intensity he's never had before. He started traveling the state, unleashing attacks on Mr. Levy's record of voting for tax increases and his support for President Obama's stimulus package and health care plan.
In short, Mr. Lazio has stopped acting like the Mr. Lazio New Yorkers have known for years. This newfound fighting spirit has, his supporters say, animated him, and it no longer looks like Mr. Levy has a lock on the nomination. The question is whether Mr. Lazio can propel his previously drooping campaign to the top. It now looks possible.
"Seventeen counties in a week? That's terrific," said Mr. Cox—who recruited Mr. Levy in the first place—when told of Mr. Lazio's travel itinerary. "He's energized."
Meanwhile, Mr. Levy's campaign has not quite held on to its momentum—he did not roll out any additional Republican endorsements until Tuesday afternoon, when three chairs from small upstate counties agreed to back him.
A March 26 poll by Marist showed Mr. Lazio leading Mr. Levy among Republicans, 53 percent to 21 percent.
Mr. Cox, for now, defends the decision to bring Mr. Levy into the primary, and seems to take some credit for Mr. Lazio's improved performance on the campaign trail.
"I wanted to have in our gubernatorial race the best, most dedicated fiscal conservatives with the best records we could find competing," Mr. Cox said in an interview at his midtown office. Dressed in a white shirt and red tie and no jacket, and feet planted wide apart, Mr. Cox seemed prepared for the blowback that could come if Mr. Lazio prevails in the primary.
At the moment, Mr. Lazio's posture is to treat Mr. Levy as an "annoyance," as one aide put it. The same for Mr. Cox's decision to back Mr. Levy.
For their part, Mr. Levy and his team take comfort in the heavy incoming fire from Mr. Lazio. "They're acting like they're losing," said Mr. Levy's strategist, John Weaver. "They're as tone deaf today as they were when he ran against Clinton."