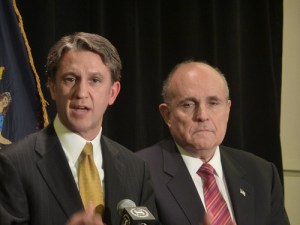 Republicans are ratcheting up their unhappines about state Republican Party chairman Ed Cox over his refusal to get squarely behind G.O.P. gubernatorial candidate Rick Lazio in favor of flirting with Democratic candidate Steve Levy.
Maggie Haberman gets wind of R.N.C. displeasure, and Liz Benjamin got her hands on an angry letter from an unhappy upstate county chairman, and G.O.P. City Councilman Eric Ulrich said he's "disappointed" in what's going on.
Lazio is traveling today and talking to television reporters, so he couldn't get on the phone and chat, his spokesman said. When I asked the spokesman if Lazio is satisified with Cox's leadership of the party, I got a non-answer.
"We are focused on electing Rick Lazio governor," said Lazio spokesman Barney Keller.