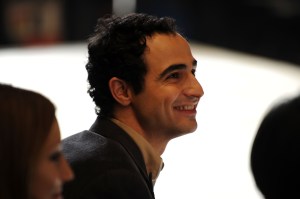 How truly involved is fashion wunderkind Zac Posen in his latest business venture: designing the interiors at the boutique condo development 16W21?
The Transom has learned that Mr. Posen, 29, brought in his own interior designer to help with the project (not Brian Callaghan, his boyfriend, also an interior designer), in which he used rich, opulent fabrics against architect Morris Adjmi's clean, white aesthetic. (It was advertised briefly in a YouTube video starring Barbie and Ken-like dolls that has been mysteriously pulled.)
Of late, Mr. Posen has been supplementing income from his eponymous clothing label with brand offshoots like his lower-priced Z Spoke line, sold exclusively at Saks, and his upcoming collection for Target.
"Zac's just not really ready to talk about the project yet," Mr. Posen's representative apologized to the Transom, when queried about his client's commitment to 16W21. "You know, he was in L.A. for the Oscars and he hasn't been to the site for a week or so, so he needs to catch up with what's going on there."
Francis Anderson of Gruppo C'E, the real estate services partner—part developer, part branding agent—working on 16W21, insisted that his collaboration with Mr. Posen has been a true partnership.
"Zac Posen put his hard hat on and walked through the site," he said. "And Morris happens to be a close, personal friend of Zac's mother. We tried to make sure it wasn't just an arbitrary match, you know? I mean, cool, Chelsea, downtown condo fits with Zac Posen and his designs."
Doesn't Mr. Posen live uptown?
"Yes, but he has a very downtown sensibility!" Mr. Anderson said.
Gruppo C'E isn't the first to tackle this idea; marketing genius Michael Shvo enlisted Giorgio Armani to design the interiors at 20 Pine Street, and Corcoran Sunshine attempted to market the Peter Som Collection of Residences at 485 Fifth Avenue. And of course, there is the famous Jade Jagger pod-condo collaboration, Jade 16W19, two blocks away from Posen and Co.'s effort.
Asked if he believed this kind of celebrity designer branding really paid off, Mr. Anderson replied curtly. "Well, talk to me in six months, but I bloody well hope so!"