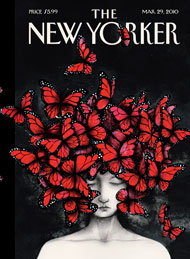 The New Yorker's Style Issue cover is a McQueen tribute.
Stefano Tonchi is rumored to be the next editor of W.
Despite Bloomberg's best efforts, the parking meter grace period takes effect.
The Onion gets a TV show.
Musical beats at The Times.
"What if women ran Wall Street?" wonders wacky New York magazine.
Momofuku Milk Bar moves its bakery to Williamsburg.
Like the first robin of springtime: new Ben & Jerry's ice cream flavors.
The Columbia Journalism Review would rather not deal with a newspaper war.
If all else fails, you could always work for the census.