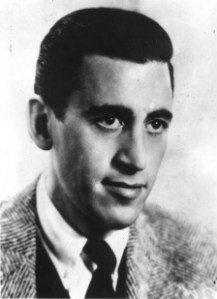 O.K., pop quiz: "It's a big shitty world, and it gets shittier by the minute." Holden Caulfield, or J.D. Salinger? Yeah, it's Mr. Salinger (the statement would require a "goddamn" or five to belong to the foul-mouthed protagonist of Catcher in the Rye), but it's sometimes hard to tell the difference between the two at a new exhibition of the author's letters to Michael Mitchell, on view at the Morgan Library starting March 16. Here's Mr. Salinger at the theater in London: "The audiences here are just as stupid as they are in New York." And here he is at a party at Laurence Olivier's apartment: "I damn near left by the window." And of course, there's the author braving the big city: "I'm lost in N.Y., these days, when I have to go there. With the exception of the Museum of Natural History."
The Morgan's exhibit reveals more than just a perpetual teenager or, as we've come to know him now, a cynical recluse. Mr. Salinger's letters to Mr. Mitchell—a painter and friend who was commissioned by the author to design the dust jacket for the first edition of Catcher in the Rye—display a far more complex character.
Above all, he was a passionate father. He treated fatherhood with a dumbfounded maturity that defies the image of the pee-drinking diet nut, obsessed with homeopathic medicine, in Dream Catcher, the memoir of his daughter Margaret (in the letters, referred to as "Peggy"). "I loved sitting up in bed, reading, and watching their sleeping bodies in the same room," Salinger writes about a trip to New York with his children in 1966. "I love going anywhere with them."
But a darker side of the author teems beneath the surface of these letters, which sat in a reading room of the Morgan Library alongside rare editions of the Bible, Dante, Goethe and Molière. Salinger didn't publish a word after 1965, but he thought about it frequently. "It ain't easy, at best, to be in [my] forties and still writing. So many middle-aged disbeliefs and burdensome doubts at work in the mind. The trick is to use the disbeliefs in the work. I mostly mean that it's more important to write and paint only what we want to, in whichever way it comes, and as slowly as it comes."
Even more frustrating for fans of Mr. Salinger's writing is that the writing did come. "I have ten, twelve years' work piled around, but I don't know how soon it will be before I feel up to unloading any large part of it. I have two particular scripts—books, really—that I've been hoarding and picking at for years. I don't know, though, when I'll feel moved to take any action with them."
The letters, 10 in all plus one postcard, are revealing, but also reinforce Mr. Salinger's nearly psychopathic desire for privacy. In 1993, Mr. Mitchell wrote to Salinger, asking the author to sign his copy of Catcher in the Rye. Salinger turned down the request, afraid perhaps that Mr. Mitchell would try to sell the autographed book, reconnecting the author with his reading public, however rudimentarily. The two cut off their decades-long correspondence, and Mr. Mitchell sold the letters soon after.
But this exhibit helps break the silence of an author who rarely gave any interviews in his long life, and who was not seen by the general public save for one image caught unexpectedly with a zoom lens by a New York Post photographer in 1988. The photograph is straight out of a bad dream: Mr. Salinger's fist is clenched, his mouth curled into a frown that sinks past his chin, his eyes propped open with terror, with hatred, but above all with grief. That image seemed to haunt the room as Declan Kiely, the exhibit's curator, discussed how the access to these letters was restricted during Mr. Salinger's lifetime.
"Now his privacy is not of any import to anyone," Mr. Kiely said. Maybe, but those frightened eyes gazed at me from behind the typewritten text of Mr. Salinger's pensive invitation to Mr. Mitchell to come and visit him at his home: "Come as you are or with any number of companions," Mr. Salinger wrote. "Up to one in number."
mmiller@observer.com