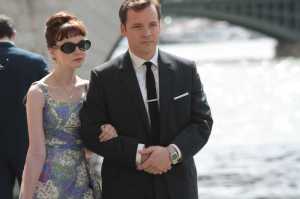 To call this the year of Jews in film sounds like the setup for a bad joke. What, runs the imagined punch line, is it also the year of Canadians in curling?
Well, yes, actually. Jews are having something of a Hollywood moment. No fewer than three of the nominees for best picture at Sunday's Oscars–Inglourious Basterds, A Serious Man and An Education–deal with issues of Jewish experience and identity. (A fourth, District 9, can be read as a gloss on the Israeli-Palestinian conflict, but let's not go there today.)
On the face of it, these movies could hardly be more different from one another, at least in the sorts of characters they present. The protagonist of A Serious Man, physics professor Larry Gopnik, is an apotheosis of Jewish stereotypes: the hapless shlimazl, the awkward nebbish, the dutiful mensch. He's every Jewish teenager's embarrassing dad. The Jews of Basterds are something else altogether. Far from overintellectualizing victims, they're men (and women) of action, terrorizing Nazis with knives and baseball bats and incinerating them en masse in a sort of reverse Auschwitz. In between these two extremes-the nightmare and the fantasy versions of Jewishness-falls the complex reality of Peter Sarsgaard's David in An Education: handsome, suave and shockingly unethical.
What these characters have in common–besides their Semitic heritage–is that they weren't created with the favorable perceptions of non-Jews foremost in mind. Historically, if a character in a mainstream movie was Jewish, you could bet he was there either to provide comic relief or to convey some sort of "important" message about tolerance. Of course, the pigeonholing of minorities was hardly unique to Jews, but it was uniquely fraught in that the movies in question were so often produced, directed and/or populated by Jews anxious both to make their dominance of Hollywood nonthreatening and to combat bigotry by presenting themselves in a sympathetic light. The result of this conflicted agenda was a sort of schizophrenia: the Yiddish minstrelsy of Mel Brooks and The Frisco Kid alternating with the earnestness of Gentlemen's Agreement and Yentl.
The protagonists in today's Jewish films, in contrast, are neither shticky clowns nor noble paragons but real, recognizable people. "In the last few years, you've seen an increase in the number of Jewish characters whose Jewishness is something that's not just written off as a silly punch line, nor is it a point of crisis for their identities," says Joshua Neuman, the editor and publisher of Heeb, an indie magazine of Jewish culture. "It's just a part of who they are."
You can't write characters like pathetic Larry and oily David if your overriding concern is doing good PR. Nor can you tolerate a film like Inglourious Basterds, whose non-Jewish director dared to replace "Never forget," the solemn injunction drilled into every Jewish mind from the first day of Hebrew school on, with a breezy "Imagine if." And the response to this act of chutzpah? Not the controversy that the Weinstein brothers, who produced Basterds, feared (and, on some level, probably hoped for), but a warm embrace from the likes of Abraham Foxman, Holocaust survivor and director of the Anti-Defamation League, who called for Mr. Tarantino to win an Oscar.
Not everyone shares his enthusiasm, of course. "I refused to see Inglourious Basterds because it sounded really stupid, and because I refuse to concede that Tarantino knows who Hitler was, and because I dislike the idea of using the Holocaust for pulp-sadistic jollies," says Leon Wieseltier, The New Republic's literary editor and one of the high priests of Jewish intelligentsia. But voices like Mr. Wieseltier's make up a distinct and shrinking minority–and that, in itself, is worrisome to a professional pessimist like writer Shalom Auslander, who fears that for young Jews to be getting so comfortable with themselves and their place in American society can only be a portent of doom. "It sounds like a good thing, but generally it means we're about a year or two out from genocide," he says. "I've seen this particular movie. I know how it ends, and it's not how Tarantino's movie ends."
Perhaps he's right. But in the meantime, it's making for some pretty good movies.
Jeff Bercovici is a columnist at AOL Daily Finance.