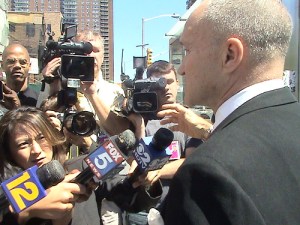 At City Hall this afternoon, following an announcement about reducing violence in public schools, NYPD Commissioner Ray Kelly took questions about the alleged incident of domestic violence that's plagued the governor in recent days. Mr. Paterson, along with state troopers, has been accused of improperly interfering in the case, in order to dissuade the victim from filing for a protective order against one of the governor's top aides.
Here's the sequence of events, according to Kelly:
"The initial report was on Halloween, a complaint of assault or violence. Officers responded and took a complaint report, prepared a domestic incident report, took a hand-written statement from the complainant, attached that to the report. The next day the domestic violence officers–-each precinct has a team of domestic violence officers–-responded to the location. There was no one home. They responded another time and went there. I'm led to believe that the officers were told by the complainant that she had obtained an order of protection and that it was served."
Kelly deflected other questions–Will DJ be arrested? Did state troopers intefere with an NYPD matter? Did the NYPD handle this properly?–on the grounds that the matter is under investigation by the attorney general.