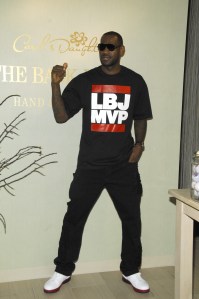 In the last two weeks, the New York Knicks have secured 1,800 deposits for next year's season tickets–the fastest pace they've ever sold them, despite their 22-41 record.
The reason–based on the convoluted logic that currently defines the N.B.A.–is that they've successfully purged enough of next year's substantial wage-earners that they might lure the league's best player, LeBron James, and possibly a sidekick.
"We didn't hit this number until about August 15 of last year, which was a record year," the president of Madison Square Garden Sports, Scott O'Neil, told CNBC. "We are on fire."
The deposit is essentially a gamble that the Knicks can lure Mr. James, and while it's non-refundable, the number of deposit-holders who eventually pay in full might depend on whether Mr. James actually wishes to revive the moribund franchise.
Unlike the Knicks, Mr. James's current team is highly successful. And while he is fond of wearing a Yankees baseball hat, he has stated his favorite borough is Brooklyn, where his friend Jay-Z–a part owner of the New Jersey Nets–will be breaking ground for a new arena on Thursday.