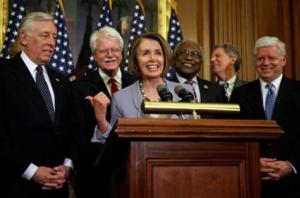 TRENTON – An architect of the healthcare reform bill that passed in the House last night, U.S. Rep. Frank Pallone (D-Long Branch) trusts that his constituents will benefit from the reform, while his potential opponent, Republican millionaire newspaper publisher Diane Gooch, calls healthcare the most obvious issue with which she can sink Pallone.
State Sen. Joe Kyrillos (R-Middletown), a Gooch backer, today agreed that the healthcare issue will be the front line if Gooch gets through the GOP Primary to face Pallone in this year's general.
"He's going to have to answer to ordinary Americans who are rightfully concerned about the future and the heavy costs they will sustain as a result of this bill," Kyrillos said of Pallone.
The congressman believes he can answer to the people.
"The history of failed attempts at health care reform reaches back decades," he said. "But more important than the historical achievement is what the reformed system will do for everyday Americans. We aren't just making history, we are making a better health care system."
The veteran Democratic congressman argued that healthcare reform will "provide insurance to an additional 32 million people, make insurance more affordable for small businesses and individuals, reduce the national debt and stop the insurance industry from exploiting the system at the expense and the harm to policy holders. They will no longer be allowed to deny coverage because of pre-existing conditions or revoke coverage when people get sick. Lifetime and annual caps on coverage will also be abolished."
Kyrillos, though, sees the bill as big government amplified – and so does Gooch.
"I think it's going to be a clash worth watching," the senator said.