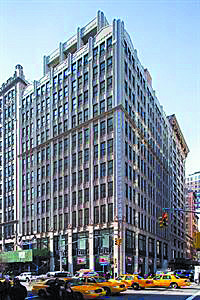 Who knew public health could be so lucrative? Jonathan Fielding is the director of public health for Los Angeles County, where, according to his UCLA faculty biography, "he is responsible for the full range of public health activities for ten million county residents." He is also the new owner, according to city records, of a swanky $2.625 million condo at glossy 260 Park Avenue South.
A former vice president of Johnson & Johnson-which might explain his apparent disposable income-and a founding member of numerous national task forces, Dr. Fielding is noted for having developed plans for combating public-health emergencies, such as bioterrorism and pandemic disease. His L.A. positions are noted as current, so it's likely the new condo is either a pied-à-terre, a gift, an investment, or an escape hatch, should a swine flu epidemic happen out west.
He bought the apartment from Chicago-based developer Sunil S. Gehani, who, like Dr. Fielding, could not be reached for comment. And while Douglas Elliman agent Frances Katzen, who had the listing, was unable to talk about the sale due to a confidentiality agreement, she did tell The Observer of the building, "It's a very solid building, apartments sell very well there; we have reached up to $1,800 per square foot, which is phenomenal for a non-view building." ("Non-view" typically means no big park or river nearby.)
The "soaring" sixth-floor condo offers "true elegance," with oak floors and "perfectly inlayed moldings that flow effortlessly" throughout the apartment. The two bedrooms face west over a private courtyard and sculpture garden; and the 2.5 bathrooms "provide stylish function," according to the listing. The master bedroom is paneled with cherry wood walls and 11-foot ceilings, and the kitchen is described as "a cook's heaven" with "stunning cabinetry." In the living room "a decorative non-working fireplace grounds the home as a hearth, providing luxurious components not seen before." Ugh, not seen before because fireplaces usually work?
More Manhattan Transfers:
A Majestic Departure? Conan Lists His CPW Apartment for $29.5 M.
Hedge Fund Honcho Steve Eisman Plays Hopscotch on Park
A Fortunate Play for Fortunoff Heir: Tiki Barber Sells For $3.495 M.