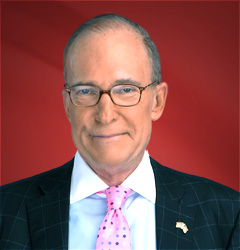 Larry Kudlow told the conservative paper Human Events that he's flattered by everyone who wants to draft him to run for Senate. But …
"But, and this is a very important thing, and from the heart, I love my work at CNBC. I just love it. And that's the reason why I have no plans to run for the Senate at the present time," Mr. Kudlow explained.
"The network has been great for me. It's a second career and it's gone very well with God's grace. Frankly, that's a major impediment to any political campaigning," he said.
The "Draft Kudlow" movement urgently Twittered that Mr. Kudlow didn't say he's not running, and that this isn't a change in position for the television host.
But the whole notion of a Kudlow candidacy got a bit of cold water thrown on it last week when the approval numbers for his would-be opponent, Chuck Schumer, came back up from a nine-year low. Mr. Schumer's approval had fallen from 58 percent in September to just 47 percent at the beginning of February, making the entrenched incumbent seem maybe, perhaps, beatable. In a new Marist poll at the beginning of the week, his approval ticked back up to 51 percent—with Mr. Schumer still beating Mr. Kudlow by a 3-to-1 margin.
If this week of aborted candidacies is any indication, Mr. Kudlow will float the idea that he had tremendous bipartisan support and surely would have won, but just decided not to.