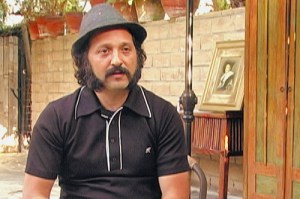 With mutton-chop sideburns, a gone-fishing hat and a Ratatouille-style accent, Thierry Guetta is a character that documentary filmmakers pray for: gregarious, oddball, dogged and hungry for fame. In April, a documentary about Mr. Guetta—who's either an overnight art-world sensation, or wholesale bogus creation—opens in New York, directed by British art-star Banksy. But fans of Mr. Guetta, whose nom de graffiti signature, or tag, is Mr. Brainwash, can see his work now at a pop-up gallery in Manhattan's meatpacking district.
Banksy's film, Exit through the Gift Shop (the title is a swipe at aggressive museum merchandising), has made Mr. Guetta something of an ersatz star. It races through the world of street graffiti as Banksy helps Mr. Guetta, an ardent fan, become an overnight sensation selling artwork he doesn't even make himself.
Mr. Guetta, 44, originally struck gold in Los Angeles as something of a rag man, buying bales of old clothes and selling them as retro-fashion. But riches from rags weren't enough for the Frenchman, whose passion was to videotape street artists, their work and their high-speed flights away from L.A. cops. "I would wake up in the morning and turn on the camera before I would brush my teeth," said the artist. Spray-painting teams soon scrambled for exposure in his videos, which have a night-vision, embedded-journalist feel. Mr. Guetta befriended them all, Banksy included.
Banksy turns the camera on Mr. Guetta in Exit. It follows him as he mortgages his house to fund an art show of Andy Warhol-style kitsch painted by artists he's hired. He makes virtually none of the artworks he sells himself, and runs his own version of the Koons-style "studio" system. Typical of the works Mr. Brainwash commissions and sells are portraits of Michael Jackson and other celebrities made up as Marilyn Monroe. In the film, Mr. Guetta's whirlwind art show packs in the crowds and takes in the cash, lampooning the art world's love/hate fascination with party and celebrity.
The self-described "entertainment" is narrated by a hooded Banksy, whose own brand is anonymous invisibility—no one is sure who he is. At Sundance, the film received mostly raves, and even more buzz, and drew suspicion that Banksy and Mr. Guetta are one and the same, or that the whole caper was staged. The movie's star sidesteps these questions, but credits Banksy for his success. "He pushed me to do things. I feel honored that an artist like this could choose me as a character."
Just in time for the film's premiere, Mr. Brainwash has his own New York City gallery debut. In a two-floor space at 415 West 13th Street, he's showing pricey gift-shop art once again—celebrity portraits, gag Edward Hopper and Edgar Degas clones and colossal figures made from tires. Downstairs are framed portraits of musicians from Louis Armstrong to Sid Vicious, made of smashed vinyl records (à la Julian Schnabel, although the Frenchman says he doesn't know his work). Red "sold" dots are all around. Mr. Guetta claims auteur-ship of the work he commissions. "Everything goes through me."
Everything wasn't cheap. A Koons-ian rubber dog was $30,000. A Warhol self-portrait in glasses (and Marilyn wig) that resembled dealer–turned–museum director Jeffrey Deitch was $40,000.Yet the art is priced at a fraction of the work Mr. Brainwash's artists are imitating. From the L.A. rag dealer, it's labels for less.
Despite the low-rent trappings, Mr. Brainwash's is not an underfunded operation. His Web site features several of his videos and several dozen works he claims to have sold, and his PR woman is Nadine Johnson, better known for such tony clients as Larry Gagosian, who represents close Banksy pal Damien Hirst, and real estate mogul and Lever House squire Aby Rosen.
So is this all an elaborate farce? There are two ways to determine that: on film and at the gallery. The "Icons" show is extended through May—perhaps through June, said the artist, not exactly a stickler for structure.
editorial@observer.com