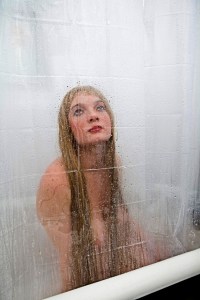 For a performer, having someone pull the plug on your show isn't usually a career-maker. Not so for Ann Liv Young, 29, who became an art-world celebrity two weeks ago when P.S.1 director Klaus Biesenbach ordered the electricity shut off during her performance piece there. Was Mr. Biesenbach's move to silence her sense—or censorship? Ms. Young's cause has been picked up by blogosphere crusaders who find it ironic, to say the least, that the curator of the game-changing and immersive "Marina Abramovic" show at the Museum of Modern Art could find Ms. Young's art in any way objectionable. Trying to halt her performance was "cowardly of Klaus," the artist charged.
Accounts differ on exactly what happened. But it seems Ms. Young, performing as her "confrontational" character "Sherry," began her show on Feb. 27, in the early evening, by insulting the woman who had just left the stage. That was performance artist Georgia Sagri. The audience burst into laughter as Ms. Young began polling them on how bad they thought Ms. Sagri's show had been. ("I don't know about art-world manners and I don't care," said Ms. Young. "Everyone was leaving during her show.") Ms. Young peed into a bowl with the intention of auctioning it off. She and Ms. Sagri continued to exchange various obscene gestures and suggestions, Ms. Young stripping and delivering most of her insults naked. Someone yelled, "Your set is over!" but Ms. Young, who by day is a benign-looking Jersey City mom of a toddler, continued. Then, the lights and the mike shut off.
Mr. Biesenbach, who declined to comment, was in the audience for all this. It was his decision to cut the power, MoMA confirmed (P.S.1 is a satellite of MoMA). It, at best, seems out of character: Mr. Biesenbach is well known for curating such shows as 2006's group exhibition "Into Me/Out of Me," which featured graphic scenes of sex and violence, along with a basement full of hard-core art. Stung by the shut-down, one of the organizers of the evening, Brooklyn curator Andres Bedona, almost immediately released a statement charging "censorship."
"The P.S.1 event has really engaged the community," said Paddy Johnson, author of the blog ArtFagCity.com, which has written much on the evening. "It raises a lot of questions," even though, or perhaps because, "it feeds into the worst stereotypes of performance art." Dubbed "The Pee in the Pan Controversy," it just keeps growing, Ms. Johnson said.
The museum explained that it acted "to safeguard the audience, performers and P.S.1 staff from an escalating and potentially volatile situation." "Safety?! That's ridiculous," countered Ms. Young. Ms. Biesenbach was annoyed in part because she hoped to sell DVDs of her performances after the show, she said. That might have interfered with a book-signing Marina Ambramovic was having at the P.S.1 bookstore the same day.
But another of the event's organizers backs Mr. Biesenbach. "It's so easy to cry 'censorship!' but I don't believe it was," Sarvia Jasso declared. Ms. Young "took a great opportunity and made it all about herself, made it a negative spectacle." Both Ms. Jasso and MoMA said they were unaware of what Ms. Young planned to do in her show. But she is fairly well established on the alternative theater circuit and has performed pieces like "Tribute to Elliot" (rolling in her beloved pit bull's ashes) and "Snow White" (a tattered costume of the Disney princess, plus a dildo) in the U.S. and Europe.
The high priestess of performance art, RosaLee Goldberg, historian and founder of the huge biennial Performa art festival, just wanted to stay out of it. She was at P.S.1 when all this happened, but she was on another floor. She's heard different versions of it and doesn't know exactly what took place, she said. But she hoped it drives people to see the P.S.1 exhibition up now, "100 Years," on the history of performance art.
Since the incident, Ms. Young happily reported that she's gotten an uptick in bookings in Europe ("they like controversy," she noted) and a rabid band of defenders, and has nudged up the rate she charges to about $7,000 a show. She said Mr. Biesenbach can make it all up to her by just giving her a solo show at P.S.1. "Then we'd call a truce," she offered.
apeers@observer.com