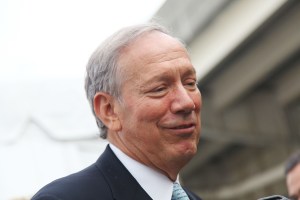 With all the big name challengers gone, Marist continues to poll George Pataki as a challenger to Senator Kirsten Gillibrand, despite the fact the former governor hasn't shown any real interest in the race.
And, just like he did at the beginning of the month, Mr. Pataki continues to best her–this time 47 percent to 45 percent. (Mr. Pataki dropped one point from the previous survey, which was 48-45.)
The good news for Ms. Gillibrand is that she trounces everyone who isn't a former governor. Who does the best among the Republican challengers? American Idol dad (and former Congressman) Joseph DioGuardi has 27 percent to the senator's 54.