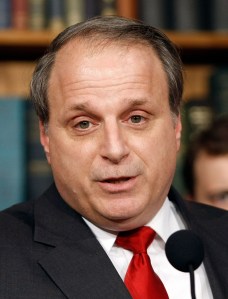 So, after some brief rumors that "salty" Eric Massa might rescind his resignation, it's apparently still on for 5 p.m. Earlier today, the one-and-done congressman–who on Friday penned an open letter admitting to using inappropriate language around his staff–explained the situation that gave rise to the ethics complaint.
Mr. Massa apparently cut a little rug with the bridesmaid at a wedding and then was told by a member of his staff that he should try pursuing her.
"And I grabbed the staff member sitting next to me and said, 'Well, what I really ought to be doing is fracking you.' And then [I] tossled the guy's hair and left, went to my room, because I knew the party was getting to a point where it wasn't right for me to be there. Now was that inappropriate of me? Absolutely. Am I guilty? Yes."
So there you have it. In the same interview, Mr. Massa kind of downplayed his comfort level around naked men by citing an awkward encounter with Rahm Emanuel.
"I'm … naked as a jay bird, and here comes Rahm Emanuel, not even with a towel wrapped around his tush, poking his finger in my chest, yelling at me because I wasn't going to vote for the president's budget," Massa said. "Do you know how awkward it is to have a political argument with a naked man?"